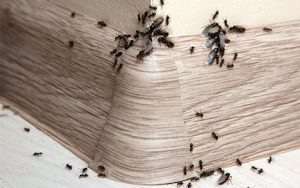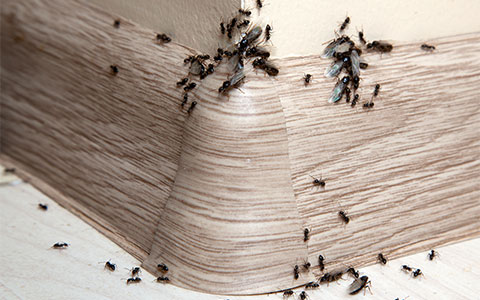 There are many different types of ants in Minnesota. Some bite, some do not, but they all have several things in common. They are motivated to find food and water anywhere they can – even if that is inside your home. Before you know it, you can have a real ant problem on your hands. Ants build nests and can communicate with each other about food sources, so once you see a few, you likely will have more to follow. EcoTech is a natural pest control company that can rid your home and property of ants once and for all. Our trained pest control specialists can locate the ant nests on your property and make sure all necessary areas are treated safely and quickly.
Natural Pest Control for Ants in MN
Ants can settle in and around your home virtually anywhere including in your lawn, under your home, around your trees, inside your walls, in your garage, and even underneath your foundation. It is often difficult to locate them all without the help of a professional. Ant colonies are huge – often between 300,000 and 500,000. Our team has been targeting ants in Minnesota for more than 15 years. We can treat the specific type of ant you have with a treatment that will work for that species of ants. In addition, the extermination solutions that we use are natural, organic and are safe for you, your family, your pets and the environment. We understand that you do not want harmful chemical agents in and around your home, so we use solutions that are safe and highly effective.
Safe and Effective Ant Extermination Services
Our team also understands that this is a complicated and potentially stressful time for our clients, because of the risks of COVID-19. As a result, EcoTech is taking additional precautions to keep our clients and our staff safe. We can complete evaluations, estimates and payment in a contact-free manner and communicate with our clients via phone and/or text, rather than engaging in lengthy in-person conversations. We have a thorough cleaning and disinfecting process as well that we use in between each and every client. We are doing our part to maintain social distancing practices, wearing masks and minimizing contact. Because we are considered an essential business in Minnesota, we continue to be fully operational and can provide excellent pest control services 24/7.
If you think that you may have an ant problem in or around your home, call us today at one of the following numbers: (763) 785-1414 • (612) 237-8282 • (952) 881-6662 • (651) 260-7378