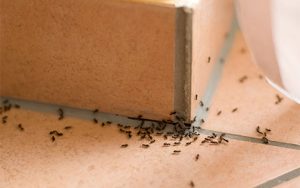 As the spring approaches and warmer weather appears in our forecast, it's important to note what else may be heating up. In St. Paul, MN, this time of year is like a large welcome back party for ants in the home. If you need ant removal services in St. Paul, MN, give our experts at EcoTech Pest Control, Inc. a call today.
Of all the pests in the home, ants are perhaps the most invasive and one of the hardest to get rid of. If you see even one ant in your home, expect to find much more in the coming days. Ants can survive in all different types of environments, but they love finding their way into homes. While they are typically attracted to the sweet or greasy treats in your home, the perfect nesting environment will keep them there for life. In fact, we have found colonies that house anywhere from 300,000 to 500,000 ants at one time. So, while you think your over the counter spray might be up to the task of killing ants when you see them, it is not going to take care of entire colonies. At EcoTech Pest Control, we are your professional ant removal experts in St. Paul, MN. If your property requires any removal, our team is here to help.
Ant Removal in St. Paul
At EcoTech Pest Control, our process is fast, efficient, and harmless. When you give us a call, one of our ant exterminator specialists will come out to your home at a convenient time for you and identify the specific ant species. We will talk to you about prices and offer affordable solutions to eliminate your problem for good. We will locate the nest, eliminate the ants, repair any damage that may have been caused and then work to perform preventative measures so that you will never have to experience this problem again. Best of all, no harm is ever done to you, your pets or even the surrounding environment. Our less toxic organic product line gets the ant removal job done without leaving harmful chemicals in the air for your family to inhale.
Ready to learn more? At EcoTech Pest Control, our friendly professionals are here to help you with anything you need. For more information about our ant removal services in St. Paul, MN, give us a call today. Call EcoTech Pest Contol, today at (763) 785-1414.