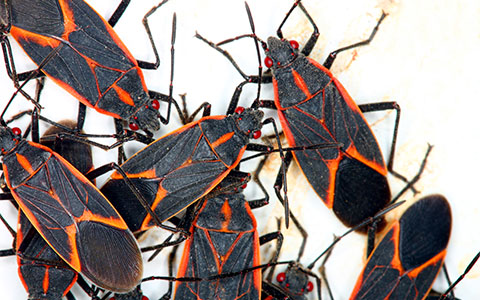 Have you seen these creepy crawling box elder bugs infesting your home this season? Known for showing their bug-eyed faces in the early spring and late summer, you may be in the middle of a wild infestation going on in your house right now. These pesky critters can drive any home or business owner crazy. At EcoTech, we work to safely remove these insects from your property in a safe and effective way.
When are Box Elder Bugs Common?
Box Elder bugs will typically live and mate on female box elder trees during the spring and early summer months. During these months, we rarely get called for home or business infestations. However, in the off season, box elder bugs are doing everything they can to survive the cooler months and keep themselves warm. Therefore, infestations most often occur in early spring and late summer.
Are Box Elder Bugs Harmful?
The good news about these pesky creatures is that they cannot harm you. While extremely obnoxious, box elder bugs do not typically carry disease and pose little threat to you, your pets or even your houseplants. However, they do have one annoying habit that you'll want out of your home or business immediately. Box Elder bugs will stain your property's surface during excrement. It is hard to get out and quite unpleasant to think about. So while not harmful, these bugs should always be dealt with if found in your home or business.
Treating Box Elder Bugs
At EcoTech, we are proud to be a professional pest control company that uses a less toxic organic product line to safely get rid of your infestation problem. When you begin to notice box elder bugs within your home or business, it's important to give us a call. We will come out and take a look at the issue, letting you know the appropriate course of action we must take to safely and effectively solve the problem. Once the pests are eliminated, we then go a step further to work on preventing the issue from happening again. We will repair any damage that the box elder bugs may have caused and then take the necessary steps to prevent them from coming back again.
All of our services at EcoTech are backed by a 30 day warranty. We want to give you peace of mind knowing that your home is safe in the hands of EcoTech, your local expert and professional pest control company. For more information about our box elder bug removal, give us a call today at (763) 785-1414.