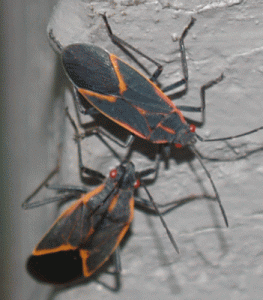 Box elder bugs are commonly found in Minneapolis and the surrounding suburbs. Wherever box elder trees as well as maple trees reside, the Box elder bugs will follow. In the warmer months, these bugs hang out on trees, bricks, decks, siding, etc., so they can get direct sunlight. During the warmer months of the year, these pests lay eggs, causing more and more Boxelder bugs to hang around your property. The real issues occur when the winter months hit. Often times, Boxelder bugs enter into homes through the tiniest holes or cracks and get into the walls of your home to help insulate and keep themselves warm during the colder months of the year. Next thing you know, your home has been infested with Boxelder bugs. Rather than trying to remove these unwanted pests on your own, leave it up to our experienced team at Eco Tech.
All Natural Box elder Bug Control
Not all Box elder bugs are going to be visible in your home. So, you may think you see all of the bugs that have entered your home for warmth, but there is likely plenty more that are hiding. While these bugs are not harmful and do not carry diseases, their excrement can stain surfaces of your home. Trying to remove these animals on your own leaves a chance that you don't capture all of the Boxelder bugs. By teaming up with Eco Tech, we guarantee to remove all of the Boxelder bugs from your home. Using all natural and less toxic bug removal applications, your home will remain safe from unwanted chemicals. This will give you peace of mind that your children and pets will not be harmed in anyway by the pest removal application that we provide.
Inspect, Exterminate & Prevent
At Eco Tech, our proven extermination methods identify all Boxelder bugs in your home and get rid of them with ease. Once you pick up the phone to call our team, we'll swing by and provide you with a thorough inspection to identify all of the Boxelder bugs in your home. From there, we'll exterminate these pests using traditional and all natural methods. Once your home is free of Boxelder bugs, we'll go the extra mile and apply preventative measures to ensure that these unwanted bugs don't enter your home again! To top it off, all of our services are backed by a 30 day warranty!
If Boxelder bugs find their way into your home in Minneapolis or the surrounding suburbs, it is important to contact the experts. If you are looking for an exterminator that uses all natural and less toxic chemicals to remove Boxelder bugs from your home, Eco Tech is the partner for you! To learn more, give us a call today at (763) 785-1414.