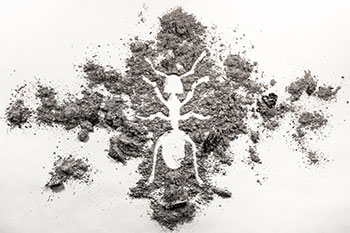 90% of all living objects on the planet are insects, so they are very important to the world we live in.  However, bugs can be quite a nuisance when they invade areas where they are not welcome – like our homes.  There are over 1 million species of insects (or bugs) on earth, but wasps, bees, boxelder bugs, carpenter ants, beetles, and spiders are some of the more common insects you may find in or around your Minneapolis or St. Paul home. Eco Tech is a local experienced Minnesota exterminator that can help you get rid of these pests for good.
Natural Pest Control Service
Eco Tech offers both all natural and traditional extermination methods that are highly effective. We can eliminate the bugs that are in your home and prevent future problems.  Eco Tech is a family owned company that focuses on customer service, offering affordable prices and always bringing our extensive knowledge and experience to each and every job. We understand that pests are a nuisance and can bring in dirt and can multiply quickly. When you call our staff, you will receive an appointment quickly, at a time that is convenient for you.  We do not require annual contracts and stand behind our work, offering 30 day warranties for all of our repairs.
Eliminate Bugs from your Home
One of the things that helps EcoTech stand out from other local pest control companies is that we offer organic pest control solutions for residential and commercial properties. These solutions are safe for your kids and your pets and target the insects in your home, leaving the rest of you unharmed.  So, you do not have to compromise on extermination services if you need them.  Eco Tech specializes in the extermination of all types of bugs.  We can also repair any damages these pests have left behind.
If you have noticed bugs in your Twin Cities home or office, call the team at Eco Tech today for expert extermination services.  We can be reached at any of the following numbers: (763) 785-1414, (612) 237-8282, (952) 881-6662, or (651) 260-7378.