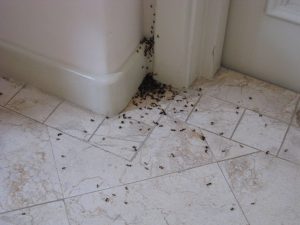 Black ants may seem harmless at first, but once they invade your residence, they quickly become an annoying issue. Not only can they contaminate food and surfaces with germs, but their presence can also cause significant stress and discomfort. It is crucial that if an infestation of black ants occurs within your home that immediate steps be taken – at EcoTech Pest Control we offer eco-friendly services designed specifically to eliminate black ant colonies from residential properties.
Identifying the problem: Before we discuss solutions, it's essential to first recognize the signs of a black ant infestation. Black ants are tiny creatures that form colonies near food sources or damp environments; visible ant trails, small piles of dirt or sawdust near entry points, or the presence of tiny black ants are common indicators that an infestation exists.
Professional inspection and customized treatment: At EcoTech Pest Control, the first step in our strategy to combating black ant infestations is conducting a comprehensive inspection of your residence. Our trained technicians will identify the source and extent of any infestation by searching out nests of these pesky creatures – this allows us to devise a tailored treatment plan tailored specifically for you and your home.
Eco-Friendly Ant Removal Solutions
At our pest control service provider, we recognize the value of providing safe and healthy living environments for you and your family, which is why we prioritize eco-friendly solutions when it comes to black ant control. Our methods aim to minimize chemical use while still effectively eliminating black ant colonies through baiting, residual insecticide application and physical exclusion methods.
Prevention: Once EcoTech Pest Control has successfully eradicated an infestation of black ants from your residence, our team focuses on long-term solutions. This may include sealing cracks and crevices, eliminating food sources such as trash bins and installing proper sanitation practices; all to make your residence less attractive to these insects in future invasions. By targeting root causes of an infestation, we hope to achieve lasting solutions and peace of mind for our clients.
The EcoTech difference: By choosing EcoTech, you can rest assured of a dependable and sustainable pest control service. Our certified technicians are equipped with cutting-edge knowledge and tools to provide effective solutions with minimum environmental impact. At EcoTech we pride ourselves on customer satisfaction – offering prompt professional service with clear communications throughout.
Dealing with an ant infestation at home can be an uphill struggle, but with EcoTech Pest Control on your side you can regain control. Our customized pest control services specialize in eliminating black ant colonies while taking into consideration their effects on health and well-being in your household. Don't let black ants disrupt your peace of mind: contact EcoTech today to arrange an inspection and begin the journey towards an ant-free home!