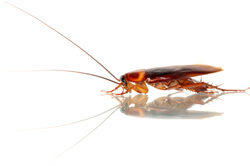 Cockroaches can be an enormously frustrating problem in any household or office environment. Over 4,000 species exist worldwide and there are four common species; certainly, four more than is necessary! EcoTech's pest control experts are prepared to help eliminate cockroaches should they appear and EcoTech has all the services needed for effective cockroach control in both homes and offices alike.
Minnesota is home to four species of roaches; American Cockroach, Oriental Cockroach and two smaller varieties: Brown-banded Cockroach and German Cockroach.
Best Way To Prevent Cockroaches From Invading My Home?
Cockroaches can be resilient. Most commonly, they gain entry via bags and boxes brought into a home; American cockroaches enter through pipes like septic systems, sewers, and plumbing; even through small crevices they can find entry. Once inside they will hide in damp, dark places; commonly found in bathrooms and kitchens, especially cabinets and baseboards.
How can cockroaches survive indoors: Resilience is also key, and bed bugs have proven their survival by feeding on anything organic that they come across, from simple food debris such as meat or breadcrumbs to rotten wood, hair or dander found around homes.
What should you do if roaches invade your home or workplace: Though infestation can be difficult to combat, you can reduce its intensity with professional pest control from EcoTech. Our pest control technicians possess the experience needed to identify pests' entry points, nest sites and the most efficient ways to eliminate the problem. After an onsite consultation they should also offer some strategies to keep roaches away – although you will likely require follow up treatments in a few weeks' time for optimal results.
Pest Control Services For The Twin Cities Metro area
EcoTech provides safe, organic, and effective pest control products that are both eco-friendly and highly effective at eliminating infestations of all kinds. Our certified pest control technicians are prepared to defend your home or office against an upcoming roach invasion by identifying its source, sealing entry points off, and preventing further pest entry points from opening. For immediate service please call us immediately on (763)232-7296; our 24/7 emergency service offers immediate relief.