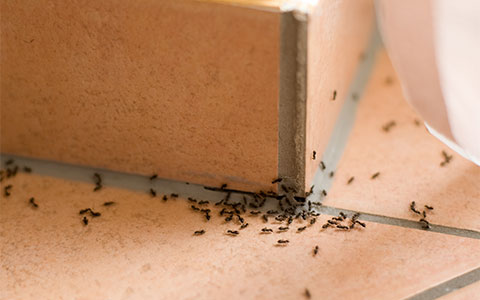 Warmer temperatures around Minnesota means that more insects are prevalent. Not only are insects popping up outside your home, you may even find some inside your home as well. So, the question becomes whether or not you have a plan to get rid of these unwanted insects in and around your home or commercial property. Well, one great way to do this is to partner with our proven and experienced insect extermination team at EcoTech. As an insect exterminator in Minnesota for more than 28 years, we've seen it all when it comes to unwanted insects.
Organic Extermination Services
There are plenty of insect exterminators in Minnesota to choose from, but not many that offer the quality organic extermination services as our crew at EcoTech. Our primary focus is to remove the insects from your property without harming anyone else on your property along the way. This includes your pets and any children that spend time on your property.
Diverse Insect Extermination
Another feature about our insect extermination services when comparing us to the competitors is that we handle very diverse insects. Thanks to our decades of experience, we've mastered the insect extermination process humanely. A list of the many insects that we can easily exterminate for you includes:
Ants
Lice
Spiders
Beetles
Asian Beetles
Earwigs
Millipedes
Wasps
Bees
Fleas
Roaches
Silverfish
Grubs
Proven Extermination Process
When it comes to the actual insect extermination process, we've gotten it down to 4 effective steps that will be sure to remove your unwanted insects in Minnesota. First, you've got to make the call over to our insect exterminator to initiate the conversation with our team. Next, one of our insect exterminators will arrive at your property for an in-depth insect inspection. Not only will we find all of the insects that you're trying to get rid of, but we'll also identify any damage that they may have caused. From there, our trusted staff will apply our organic extermination application. Last but not least, we help you incorporate preventative measures around your property to ensure that these unwanted insects don't invade your residential or commercial property again any time soon.
If you live in Minnesota and are struggling with unwanted insects that are invading your property, it's time to seek professional assistance. When it comes to offering the total insect extermination package, there is no better option for you than to partner with our expert team at EcoTech. In turn, you'll be able to get back to living life without having to constantly worry about coming into contact with unwanted insects. To learn more about our organic insect extermination services or to request an insect inspection, give us a call today at (763) 785-1414.