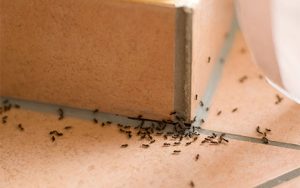 It's that lovely time of year again in Minnesota where the leaves have turned colors and the first frost has come and gone. It's also the time when insects desperately scurry to find a safe haven from the foreshadowing winter weather. While you may not see these creepy crawlies invading your home right away, you will soon enough. As we get deeper into the winter, these same insects will begin to multiply and before you know it, you will have an infestation on your hands. At Eco Tech, we work to stop the infestation in its tracks. If you notice even a small problem right now, you can bet it will only get bigger. Spray for them now during the fall before they ever start to multiply!
Is Your Home Free And Clear of Insects?
At Eco Tech, our expert professionals can guarantee your problem will be handled. Through our four-step process, we are confident that we can keep your home free and clear of insects, even through the worst winter months in Minnesota. All you have to do first is just give us a call! We will work out a flexible time to meet with you. Should you feel like you have an insect emergency, we also provide 24-hour after hours emergency services.
Expert Insect Inspection
When we meet with you, we only send the best. One of our highly trained team members will come and inspect your home or business property. We will identify the problems and create an effective treatment plan that best suits your needs. We will provide you with an affordable quote that contains no hidden fees or surprise charges.
Safe Extermination Services
Once we have that agreement in place, our expert extermination professionals will get to work eliminating the unwanted pests and keeping your space safe for both you and your family. We will treat your space completely, ensuring that we do not miss a single step!
Effective Preventative Insect Removal Measures
Last, we will go a step further and ensure that this problem will not happen again! We will take preventative measures to repair any damage that may have been caused by the insects as well as create ways to keep them from coming back. We are so confident in this process that we back all of our services with a 30 day warranty. This is the strongest in the Minnesota pest control industry.
If you are worried about insects during the winter months in Minnesota, let Eco Tech put your mind at ease. For more information about our pest control services, give us a call today at (763) 785-1414. We look forward to providing you with an affordable treatment for your property.