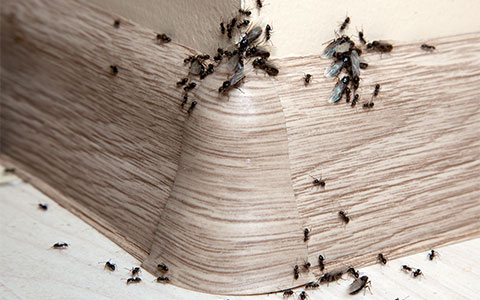 There is never a fun time to find ants in your home. They seem to invade without warning and suddenly you look down and there is a trail of them coming into your kitchen. Ants are attracted by a food source. They may have nests outside but they forage for food inside of your home. They can sneak in underneath a closed door or a window sill, a tiny crack or small hole and they can be difficult to get rid of once they have discovered a way in. Their colonies are huge – some numbering well over 100,000. And, if ants get into your pantry or cabinets, you may have to get rid of much of your food. Eco Tech specializes in ant extermination and not only get rid of the ants, but also stop them from returning.
Interior and Exterior Ant Extermination
Our ant extermination process is extremely thorough. We can identify the type of ant in (and around) your home and make sure that the treatment plan works for the species of ant that you have. In addition, our crew will locate all nesting sites on and around your property and treat those as well so that you will truly be rid of your ant problem, once and for all. One of the things that sets us apart from other pest control businesses is that we also use a less toxic, organic product line that is safe for your children and your pets.
Eco Tech has more than 15 years of experience in the pest extermination business and we bring experience, knowledge and professionalism to each extermination job we complete. We understand that you do not want to be battling ants or any other pests inside your home – so we respond to extermination needs quickly with 24/7 service available. Our crew is always on time and they communicate clearly about the problems we find and our proposed solutions. Our extermination services are also affordable. We do not require contracts unless absolutely necessary, so you can be sure that you are not paying for services that you do not need.
Ant Extermination Professionals MN
If you have an ant problem in your home, call our local Minnesota team at Eco Tech for ant extermination services. We will eliminate all ants from inside your home and also make sure that the nests they have built outside of your home are taken care of as well. Call us at (763) 785-1414 to schedule an appointment.