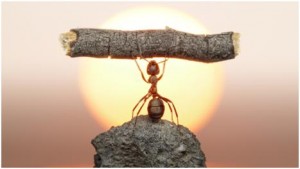 Ants are the quintessential party poopers! Just when you least expect them, they appear seemingly out of nowhere. In the blink of an eye, they have invaded your space, made themselves at home, and eaten your food.  If you try to show them the door, they'll hold it open and bring dozens of their friends inside to join the party. If you've tried to get rid of ants yourself, but the ants always seem to win, then it is time to call in the Minneapolis ant control pros at Eco Tech.
The Worst Kind Of Ant Extermination
Ants are crafty pests; they have to be in order to survive. Just when you think they're finally all gone for good, they're back! Ants truly are some of the worst of all the pests.  If you've tried to eliminate ants yourself, then you know that it isn't always so simple to get rid of ants once they've invaded your home or business. Using regular ant sprays might kill the ants you see, but they won't fully do the job.  Did you know that ants are even able to simply avoid sprayed ant repellent by breaking off from their colony to form another colony with a new queen?
Effective Ant Extermination In Minneapolis
If you've had just about enough of the failed do-it-yourself ant treatment, call in the Minneapolis ant extermination experts to get the job done once and for all. With over 50 years of combined pest control experience, the professional team at Eco Tech knows how to successfully eradicate your ant problem.
The Eco Tech Process for Minneapolis Ant Exterminating
At Eco Tech, we know exactly how to tackle your ant problems. First, we will find the entry point in your home or business then seal those areas to prevent further invasion. Then, we will work with you to determine the best method of extermination. We are proud to be a Minneapolis organic pest control company with natural solutions to your ant problem. We at Eco Tech have families and pets at home too, which is why keeping you, your children, and your pets safe while targeting your ant problem effectively is our priority.
Call For Your Ant Extermination Service
Whether you would like a one-time visit for ant control, or prefer we make regularly scheduled visits to your home or business, Eco Tech offers customized pest control programs in Minneapolis. Call us today at (763) 785-1414 to learn more about our ant control services in Minneapolis.