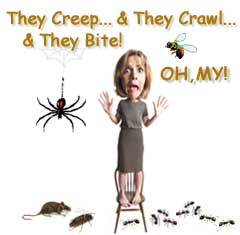 Oh, you better watch out. You better not cry. Don't get disappointed when those bugs don't die. Lice and ants and roaches are coming to town. They crawl around when you're sleeping. They hide when you're awake. They resist the little spray you got so call ECO TECH for goodness sake. Oh, you better watch out. There's no need to cry. Eco Tech is on your side. Minnetonka's best exterminator is in town.
Okay, so we aren't the best at jingles. We can admit that and you probably shouldn't invite us over to go caroling around Minnetonka. While we aren't the best singers, when you have a pest in your home, we know exactly how to get the job done! If you are looking for a Minnetonka Exterminator, Eco Tech is the best option for you!
All Natural Extermination Methods
So why are people raving about us so much? Let's be real, not a lot of people like to brag when they have roaches in the home. However, our professionals do such a great job at handling whatever pest issue you may have, it's hard not to tell your friends. What makes us so different? Well, take a deep breath in and then follow it with a long, slow exhale. As oxygen fills your lungs, rejuvenating your mind and body, and then is exhaled back into the air, think about how much you love to breathe in fresh air. Think about how much your kids and your pets enjoy that nice, clean air. Now think about how some extermination companies come into your home and spray toxic poisons along the walls and perimeter of your home. Is that really any better than having pests? We didn't think so. Therefore, Eco Tech uses a less toxic organic product line to treat both the indoor and outdoor portion of your home. We ensure that those nasty pests are exterminated all while keeping your family and pets safe. Breathing in and out is a priceless gift and we want to keep you safe in your home!
Pest Control
We deal with all types of pests. The most common pests in the Minnetonka, MN area include:
Asian Beetles
Heat Treatment
Beetles
Crickets
Earwigs
Fleas
Lice
Millipede
Roaches
Spiders
Wasps & Bees
Most of these critters are hard to get rid of and can be a real nuisance when they start appearing all over the home. While pests are first and foremost, nasty, they can also be very harmful to the home. Pests can ruin structural portions of your home, carry diseases that can be harmful to your family and leave unwanted residue throughout the house.
So if you are looking for a Minnetonka, MN exterminator, Eco Tech is here to help. Call us anytime as we have a 24/7 emergency service line. We will come out to your home, inspect the issue, make a plan for extermination, fix the problem, and then correct the issue so your pest problem does not reoccur! So give us a call today at 763.785.1414 and have the happiest of holidays!