Pest Exterminator Minneapolis MN | Ants
The summer has come to an end, the days are getting shorter and the weather is getting colder, and here in Minnesota, we are preparing for the almost guaranteed very cold, very snowy, and very long winter ahead. Chilly, Minnesota weather has a way of sneaking up on us. Have you noticed that the days are getting shorter?  No?  Well ants have!  But in the winter? You betcha!
Ants have followed man to every corner of the earth, and have even outlived the dinosaurs. So trust and believe, they can survive a Minnesota winter! Maybe in your house! And it seems ants are out in full force. Apparently, fall and winter ant invasions are a common occurrence.
Ants are so much a part of our everyday lives that unless we discover them in our sugar bowl, we rarely give them a second thought. Yet those minuscule bodies voyaging across the kitchen counter are among the most difficult of all pests to get rid of.  In fact, in a recent survey, pest control technicians indicated they had more call-backs due to ants than any other insect.
Ants Everywhere!
Of course, no one has actually counted them all or asked them to fill out little ant census forms, however, scientists have estimated that there are about 10 million, billion ants in the world, all waiting to creep, climb, crawl, or sneak into your home. That's more ants than there are mammals, reptiles, birds and amphibians combined.  Another website gives an estimate of a quadrillion ants worldwide, more than the mileage to the nearest star. Here's what a quadrillion looks like: 1,000,000,000,000,000.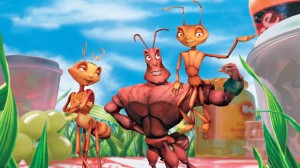 Ants are amazing creatures, with a complex, cooperative society that has enabled them to thrive all over the world no matter the changing conditions of the Earth. They have been here for over 140 million years, and therefore survived the extinction of the dinosaurs. They live pretty much everywhere on the Earth surface, and with around 20,000 species of ants, they can be considered to be one of Earth's most successful species. Ants are also the number one pest problem in the country.
While a single ant would hardly be a problem that most homeowners would lose sleep over, it's a whole different matter when their relatives arrive! Because ants tend to come in hundreds or thousands rather than ones and twos, getting rid of them can be serious business. While there are many other bugs that most of us would prefer to stay outdoors, ants have the dubious distinction of being the #1 Nuisance Pest in the United States!
Here are a few things you can do as a homeowner to prevent these unwanted visitors from dropping anchor in your home.
Your Landscaping Is Too Inviting
Ants might occasionally enter a house on a whim, but in most instances, an ant comes indoors in hopes of satisfying one of its needs… food, shelter and water. As it turns out, our homes have everything they need.
Like all creatures, ants have specific conditions and situations that they find particularly inviting. Moisture levels, food accessibility, and adequate shelter are each concerns for nearly all of the ants you'll find in the US… and your landscaping could be serving as a metaphorical Welcome Mat!
Any variety of vegetation that is situated too close to the base of your home or one of its many ant-sized entry ways can be a significant factor in the likelihood of ant infestation.
Ants use vegetation for shelter and food and because plant life holds onto moisture, these little bugs feel right at home among its leaves and branches.
Any plant, grass, shrub, or even tree that is growing close enough to your home to have physical contact is, therefore, a bridge between the ant's natural habitat and yours!
Trim plants away from the home and remove any that actually come into contact with the structure; this will reduce the chances of an ant (and soon enough, a few thousand of its friends) being lured into your house.
Control Measures
In their natural environment, ants nest in dead trees and other dead wood. This enhances decay, which has ecological benefits. However, the ant achieves pest status when a colony invades the wood of a house or other structure, damaging its structural integrity.
Since they favor moist wood as a habitat, any condition that promotes moisture should be eliminated to prevent infestation. The easiest of these is keeping gutters clear so that water does not run down the side of the structure or gain entry. Moist wood is much easier to chew. The ants do not eat the wood, but remove it to create galleries for their activities. The galleries run parallel to the grain, as they are created in the softer, non-lignin portions of the timber. The galleries have a sandpaper-like feel, due to fecal remnants, but the mud-tubes produced by termites will not be present. Sawdust-like piles of frass sometimes accumulate below sites of activity.
Any wood in contact with the ground can be a source of entry, and water draining toward the structure will also encourage these ants. Sloping the surrounding ground away from the structure will remedy this method of entry. Leaks inside the house from plumbing or appliances can also create the moist conditions that encourage these species.
Reducing moisture will not eliminate an established colony. One can spray the insects with common household insecticides to kill them, but this is unlikely to penetrate enough to reliably kill the colonies deep in the wood. Since it is likely that the wood housing the main nest is no longer structurally sound, the complete removal of the nest and structural repair are required.
The main nest must be located, by tracing the foraging workers as they return home. Winged males leave the nest to reproduce, so there is little point in following them. The males leave in search of sunlight, so they are often seen near doors and windows (as exit points). If winged ants are seen, there is a colony nearby, so this is an important warning sign. Structural damage can be extensive by the time external damage is visible, such as sawdust or bubbling paint.
Eliminate The Ant Buffet!
Your home smells delicious! If an ant… especially a hungry ant, detects a new food source, it is its job to seek it out. Unfortunately, most ant species are really good at their jobs and can detect food extremely effectively. Ants have a sweet tooth! So, many foods (sugary foods in particular) will attract ants, so eliminate the ant buffet the best you can by keeping your food in places that are difficult for ants to access.
Sanitation
Any food which is stored in the kitchen should be tightly sealed. Tiny ants can actually get into glass jars if there is no rubber gasket to make a seal, so be sure that all containers have tightly fitting lids. Be sure to sponge off any residue that might have dripped on the outside.
Keep all kitchen surfaces (including the floor) free of food scraps and standing or leaking water. Fix leaky faucets and sponge off dish drainers. Follow all of the steps described earlier for managing food wastes and rinsing containers. If you have a line of ants marching across the kitchen, find what they are going after, but don't remove it until you locate the entry point, seal it, and mop up the ants with soapy water. The best caulking material to use is silicone seal, but even petroleum jelly will work as a short-term fix until you have time to do a better job.
Minnesota Ant Pest Control Expert
Give ants their marching papers!  For large-scale carpenter ant problems, contact a Minnesota Pest Control Expert who who will locate the nest location(s) and eliminate all the ants.  They will also be able to repair any damage they may have caused.