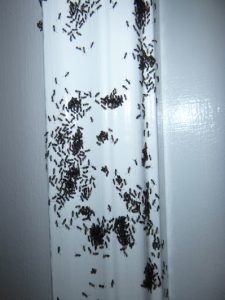 All throughout the year, pests in Minnesota are always around. Whether you have spiders on window seals or roaches in your bathroom, no one ever feels quite settled when they know that they have a pest problem. At EcoTech, we want to make sure that you feel comfortable in your surroundings. Serving both residential and commercial properties, EcoTech is made up of quality Minnesota extermination professionals that aid in keeping your environment as pest free as possible.
Your local MN Extermination Professionals
EcoTech is proud to be a local company that serves residents and businesses within our own community. We have well over 15 years of experience in pest removal within Minnesota and we understand the importance of removing your pest problem while keeping everyone and everything else in that environment safe and unharmed. At EcoTech, there is no pressure to sign a contract. We believe in our work and our results so much that we always tell our customers to call us the next time they need us. Our team of Minnesota extermination professionals is made up of honest, reliable and friendly workers who enjoy keeping our clients happy. We are friendly to work with and extremely flexible for our customers who may need to be further accommodate.
Our Extermination Process
For the sake of transparency, our process is made simple and easy for our clients. The first step is so simple, just give us a call! We will find a time that is convenient for you to meet us. Feel like it's an emergency? We are even open in the wee hours of the night to accommodate anyone who may need something exterminated quickly. After you call us, we will come out to your home or business and inspect the issue. We will locate your pest problem and create a treatment plan that is both effective and affordable to our customers. We will talk with you about the process and the plan and give you a realistic quote with no hidden charges, fees, or contracts. Our next step is obviously removing the problem. We will come out and treat your property, exterminating all of your unwanted pests. We even go a step further from this point and repair any damage that may have been caused by the pests' presence. We are so confident in our own work that we back all of our services with an unfounded 30 day warranty.
For more information about EcoTech and our amazing team of Minnesota extermination professionals, give us a call today. Call our experts at EcoTech at (763) 785-1414.