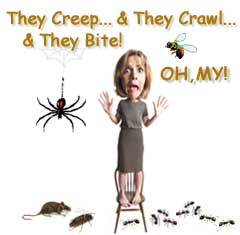 Pests and insects are a problem and frankly, a fear, that most homeowners have. Even if you aren't scared of pests or insects, you certainly don't want them to invade your home! Depending on the pest, once one enters your home, if left untreated, its population can multiply by the thousands! If you live in St Paul, MN and are in need of expert pest extermination or insect extermination, then it's time you called Eco Tech today!
What We are All About
St. Paul, MN comes with its fair share of creepy crawlers. From rodents to millipedes, nothing that you didn't invite into your home should be allowed! At Eco Tech, we strive to have effective pest control services that keep pests out while keeping your family and pets safe. We offer more than 15 years of experience in expert pest extermination and pride ourselves on the ability to keep your environment unharmed and safe from toxic chemicals that would otherwise be dangerous to your children, pets, or other animals. We realize that pest or insect extermination is a stressful time! Our staff devotes themselves to being reliable, on-time, and honest so that no customer is left unsatisfied. In fact, we offer a 30 day service warranty on all of our pest control plans so that you can find comfort in knowing that your home is safe!
It's All About the Results
Eco Tech offers the most effective pest control services because we are well aware of the common pest problems located around our area. Our expert pest extermination team is able to locate the problem and treat the cause fast! We do recognize that each case is different and are therefore, able to come up with a customized plan for insect extermination that leads to positive results! In order to protect everyone else living in the home and surrounding areas, we avoid synthetic poisons and treat the issue with healthier alternatives that are even more effective! Our natural products offer the most effective pest control services out on the market today!
So, if you are in need of insect extermination or expert pest extermination, it's time to call Eco Tech today! If you live in St. Paul, MN, call us at 763.785.1414.