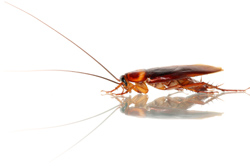 Cockroaches. The name alone can send chills up and down your spine. These bugs have been around Minnesota and beyond since the time of dinosaurs. They can live for almost a month without any food, they can live two weeks without any water,and they can even live for up to a week without their heads. Holding their breath for up to 40 minutes, running up to three miles an hour and keeping their eggs naturally protected from insecticides, allow these insects to survive even the toughest of exterminations. They are true fighters, but so is our dedicated staff. If you have a roach problem in your Minneapolis home or business, EcoTech is here to help.
Roach Extermination in Minneapolis
When you see a roach, you can almost always guarantee that there are many more lurking in your cracks and crevices. This is especially true when you see them on your property during the day. It likely means there is overcrowding. They can enter your vents, your sewer pipes, and cracks around your home. They are tricky to exterminate, and their survival rate is pretty incredible. At EcoTech, we are well trained in roach pest control. We have utilized our best methods and eradicate them from many homes. Roach extermination is not a do-it-yourself job for your average homeowner. In fact, they may grow a good resistance to whatever you use. At EcoTech, we know exactly how to get your Minneapolis home or business pest free, while also using our less toxic organic pest treatment.
Cockroach Extermination Process
When you need our cockroach extermination services, just give us a call. We will find a convenient time to meet at your home. One of our highly trained professionals will come inspect your area and identify your specific roach problem. We will offer you an affordable quote, explaining how we will eliminate your roach problem while keeping you, your family and your pets safe. As always, there are no hidden charges or contractual obligations for you to sign. Our next step is to exterminate your cockroaches, leaving your space safe and roach free. Before we leave, we will go beyond extermination processes and work to prevent roaches from coming back again. We will repair any vulnerabilities and/or damages that the roaches may have caused.
For more information about our roach extermination services in Minneapolis, we encourage you to call EcoTech today. Contact EcoTech today at (763) 785-1414.