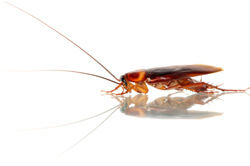 We know more about roaches now than we ever have, and one thing about them remains true—they should not be allowed to share home space with people. Unfortunately, however, our hatred for them is not enough to keep them from trying to take over our living space. EcoTech is equipped to get rid of all roaches in your home, and to ensure that their means of entry into your home is eliminated.
The conventional wisdom around a roach is that they can survive a nuclear apocalypse, meaning that if all other life on Earth were to end in the madness of nuclear war, roaches would survive and eventually thrive. As a result of this belief, whether it is true or not, roaches have taken on a mythical quality, suggesting that it cannot be killed. The extermination team at EcoTech has killed enough roaches to know that that is just simply not true. Roaches survive and thrive because of where they can hide, not because of some super-insect quality they have that shields them from destruction. Roaches still die when qualified exterminators use their techniques, and no local extermination service is better qualified than EcoTech to rid your home of those unwanted pests.
Roach Elimination And Prevention Services
Roaches are opportunistic. They enter your house in areas where there are tiny cracks and other vulnerabilities. In most cases, homeowners overlook those entry points because it seems impossible that any creature could make their way inside through such tiny areas. Roaches have a way of being able to squeeze through even the smallest crack or opening. The ability to identify points of entry for roaches requires experience that most homeowners simply do not have. You are not trained to look for the areas that roaches will find but we are. We have the experience and have developed that expertise so that we can be helpful when you have reached one of the limits of your knowledge.
Roach Extermination Services
When we come to your home to eliminate roaches, we will complete the job thoroughly. We have at our disposal eco-friendly and traditional methods of roach extermination, and we will be happy to explain the benefits of each so that you can make an informed choice about what you would like us to use in and around your home. The bottom line is that EcoTech will eliminate all roaches from your home before they breed and multiply. We are considered an essential Minnesota business and are currently open full time. Call (763) 785-1414 for more information or to schedule a time for a consultation.