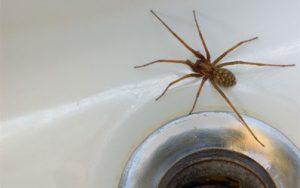 Even though spiders are known to be good for our environment, for many they create a bit of fear when found indoors. The reality is that spiders feed on many other pests that are not welcome in our homes – including cockroaches, mosquitos, flies and moths. In fact, one single spider can eat nearly 2000 spiders in just one year! Most spiders are entirely harmless to humans but that does not prevent many from being afraid of them. Eco Tech understands that even though spiders may not be harmful, they can bite, and they may generally not be welcome in your home. Our spider exterminator in Arden Hills can rid your home of spiders and all other pests so that you can breathe easier.
Eliminate Spiders and Pests from your Home
For the most part, spiders really do try to stay out of the way of humans, and as a result you may actually have more in your home than you realize. There are at least 35,000 different species of spiders and many of those live in our area. Our team knows how to find spiders and other insects in your home and get rid of them once and for all. Spring is a busy time for insects and spiders, they can reproduce quickly and cause quite a problem for homeowners. Our professional Arden Hills exterminator will take care of all pest control issues on your property.
Eco Tech's spider extermination services are safe and effective. We are committed to our customers and our environment, so we offer natural pest control solutions that are safe for you, your family and the planet. Our extermination services are affordable, and we do not require you to sign any contract. You pay for the services that you need and the services that you want, not add-ons like many other pest control companies. We also respond to customer needs 24/7 as pest problems do not happen only during normal business hours. You will receive the best possible service when you partner with Eco Tech.
24/7 Pest Control Services in Arden Hills
As an essential business, Eco Tech remains open during the COVID-19 pandemic. Your safety and the safety of our employees is our top priority. We have implemented improved sterilization and disinfecting methods and complete these new procedures before and after each client. We can also complete contact-free estimates and payments to minimize the risk of exposure. If you have seen spiders in your home and would like to contact Eco Tech's spider exterminator in Arden Hills, call us today at 763-785-1414.