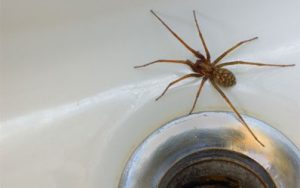 With the cold winter weather heading towards Minnesota, spiders of all sizes are looking to find their way into homes so that they can stay warm. If you've noticed an uptick in spiders in your house in Minnesota, or if you're looking to keep them out of your house this winter, leave it up to Eco Tech to remove these unwanted spiders once and for all.
When it comes to spider removal from your house, quick action is absolutely necessary. The longer you wait, the more time these spiders have to multiply. The goal is to get these spiders out of your house, right? If so, the minute you see a few spiders in your house in Minnesota this weather, you need to pick up the phone and reach out to our spider removal professionals at Eco Tech.
The Right Spider Control Product
With so many spider species in Minnesota, it is important that the spider exterminators know exactly what type of spiders they're working with. One spider control product may work well on one spider species, but not as well on another. At Eco Tech, we have spider experts on staff that know all of the various species in Minnesota. Additionally, our experience has allowed us to develop ideal spider control products to get these spiders out of your home for the long haul.
Natural Spider Control Products
Many homeowners have other pets and even children in the home, so the thought of pest control products indoors can be terrifying. The good news is that by choosing Eco Tech as your spider removal team, you'll get to take advantage of our natural pest control applications. Our treatments place no harm on you, your children or your other pets in the home.
If you are concerned that you have spiders in your house this winter in Minnesota, the quicker you reach out to Eco Tech the better. Our experienced spider removal professionals are ready to come into your home and apply our natural spider control applications. From there, we'll get rid of these unwanted spiders so that you don't have to worry about those creepy crawlers invading your home in the future. There's no better time than now to reach out to our crew at Eco Tech. Give us a call today at (763) 785-1414 and let us get rid of those spiders this winter from your Minnesota home.