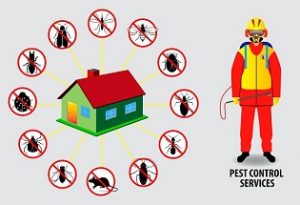 We all love the summer – temperatures are warmer, we can get outside and enjoy more fresh air, the flowers are in bloom, and it stays light longer. However, bugs and other pests also love the summer, perhaps more than any other season. You may feel like ants, roaches, spiders, wasps, bees, beetles and even lice are all around you, both inside your home and out. The team at EcoTech can take care of any summer pest problem that you have so that you can enjoy the next few months without the constant annoyance bugs can bring!
Organic Or Traditional Pest Control Methods
Our crew can complete summer pest removal services in two different ways. We offer traditional extermination methods as well as all-natural pest removal services. Both are highly effective, and we can explain the differences to you so that you can make the best choice for you and your family. Pests can be a real nuisance, especially during the summer months when you are at home more, eating outside and trying to relax and take a break from the stress of daily life. Eco Tech is a family-owned pest control company that has been operating as an essential Minnesota business throughout the COVID-19 pandemic.
We understand that every property is different, and every pest problem is unique, so we offer customized insect programs that are tailored to meet your needs. We can treat all types of insect problems including ants, bees, wasps, fleas, lice, roaches, beetles, grubs, millipedes, and even spiders. Our pest control solutions (traditional or natural) attack the pests and leave your home, your family, your pets and the environment safe.
Twin Cities Metro Pest Control Services
Store bought pest control solutions may kill the pests that you see, but they cannot touch those that stay out of sight. The only way to completely get rid of a pest problem in and around your home is to hire a professional pest control service like EcoTech. We can remove all pests from your property and prevent future issues down the road. Pests can carry dirt, disease, can reproduce quickly and some even can bite or sting, so it's a good idea to handle the pest issue quickly. We serve the Twin Cities Metro area and have an emergency service line you can call at night or on weekends. Give us a call at (763) 785-1414 • (612) 237-8282 for more information or to schedule an appointment. Enjoy your summer and let us take care of the pests!