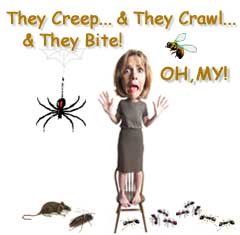 The team at EcoTech understands exactly how insects enter our homes and how to both treat and prevent insect infestations. The products that we use are both safe and effective, and we will take a look at your home and make an assessment about insect problems we find that we will share with you. Unlike many other traditional insect removal companies, EcoTech does not require you to sign contracts. We will simply explain our recommendations and projected costs to treat your home or business and you can make a decision about how to proceed. Our team is friendly, prompt and highly professional. We are proud to have received an A+ rating from the Better Business Bureau and have become a trusted provider of extermination services.
There are insects everywhere. In fact, you are probably within a few feet of at least one at this very minute. Most people do not like the thought of insects in our homes. EcoTech is a traditional insect removal company that has served the South Metro area for more than 15 years. Our pest control specialists can help you manage all types of insects that are common to the South Metro area including:
● Ants
● Roaches
● Beetles
● Lice
● Fleas
● Boxelder Bugs
● Grubs
● Wasps and other types of bees
● Millipedes
● Spiders
Experienced Insect Removal Specialists in South Metro
Pests can pose a risk for your home and for your health. They can carry disease and germs and can actually cause damage as they seek entry points to your home. One of the things that sets EcoTech apart from other local pest control companies is that we offer extermination services, prevention services and damage repair. If we find vulnerable areas that make it easy for insects to enter, or find damage from insects, we can make the necessary repairs to restore your home to its original condition. This will lower the risk for future pest problems.
Local Insect Extermination and Prevention Services
Eco Tech is a local, family-owned traditional insect removal company that takes pride in our commitment to our community. We value each and every one of our customers and will work hard for you. We understand that insect issues do not only occur during normal business hours. We are available 24/7 and on nights and weekends for the convenience of our customers. For more information about our South Metro traditional insect removal company, call us at one of the following numbers: (763) 785-1414 • (612) 237-8282 • (952) 881-6662 • (651) 260-7378.