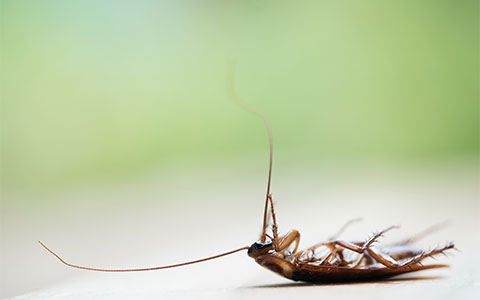 If bugs are bothering you and you want them gone, the best option is to call in a bug exterminator with years of experience for getting fast results. Sometimes it can feel like Minnesota is the insect capital of the world. Though this is not entirely accurate there are many different types of bugs that can invade your property and cause problems. Ants, fleas, roaches, spiders and bees are just a few of the bugs that thrive in homes and businesses.Some of these nasty little bugs can be a public health hazard, while others are more of an annoyance. The pest control experts at Eco Tech know where to find flying, crawling, creepy insects and safely eliminate the threat that they can cause. We use insect specific tactics that eradicate the bugs, repair insect damage on the property and prevent future infestations to keep your property safe. Residential and commercial insect extermination services are available.
Variety of Insects Found in Homes
Let's face it, no matter how hard you work to keep your home free from bugs, they can always find their way in. Eco Tech has a team of Minnesota pest control experts that have the training, equipment and expertise to handle any and all of the following varieties of insects found in homes.
Ants
Crickets
Boxelder Bugs
Roaches
Asian Beetles
Spiders
Lice
Fleas
Earwigs
Millipedes
Silverfish
Bees
Grubs
Wasps
Residential Insect Exterminator
Finding bugs living and breeding inside of your home can give some people nightmares. Not all insects are harmful to humans or pets but when they are seen in large numbers are a nuisance, they should be dealt with accordingly. Eco Tech provides residential insect extermination services that can find and remove unwanted pests very quickly. We take special care to make sure that living and sleeping quarters are free from danger from toxic chemicals that other exterminators may use.
Commercial Bug Extermination Services
Commercial properties are just as prone to bug infestation problems as residential homes. In many cases businesses are even harder to keep free from flying and crawling insects. Public spaces can attract many different insect species that create issues related to cleanliness, allergies, disease or loss of business. Contact Eco Tech for commercial bug extermination services when you want fast, friendly service that eliminates your bugs whatever species they may be.
MN Pest Control Experts
Don't let bugs control your life. When your home or office is being overrun with ants, spiders, bees or beetles, call in the Minnesota pest control experts with over 15 years of experience with exterminating bugs. We offer fast, affordable solutions to bug problems whether they are existing in residential or commercial areas.
Contact the professionals at Eco Tech to schedule a complete bug problem evaluation and solutions at: (763) 785-1414 * (651) 260-7378 * (612) 237-8282 * (952) 881-6662. Emergency services are available by calling: (763) 232-7296