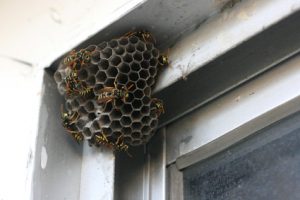 If you've ever been stung by a wasp, you more than likely frown anytime you notice a wasp around your property. If you see one wasp, chances are there are others hanging around. Additionally, there very well could be a wasp nest around your property as well. If you have children or pets, it is best that you get rid of these wasps and their nests quickly. Not only does this help keep you and your family protected, but it also gives you that added peace of mind that you don't have to constantly have to be looking around to make sure you don't experience an encounter with a wasp. When it comes to getting rid of these pests, there is no better wasp and nest removal team in Minneapolis, Minnesota than Eco Tech.
Minneapolis Wasp Nest Removal Experts
Wasps can nest in a wide variety of areas around your property. Commonly, wasp nests are found in trees as well as holes, cracks or corners of your home. These nests are not easily visible at times, so you can easily make your way towards a wasp nest without even being aware. Our removal services will help keep your property protected from a wasp invasion.
Let The Pros Handle Nest Removal
Being stung by a wasp is not pleasant. In fact, being stung is quite painful. For some, a wasp sting can be much more dangerous and even deadly if the individual happens to be highly allergic to the wasp sting. Rather than risk coming into contact with a wasp directly, leave it up to our experienced and focused wasp and nest removal specialists in Minneapolis, Minnesota. Using organic removal products and methods, we'll remove these wasps from your property without running any risk of harming anyone else, including your pets.
Proven Wasp Removal Process
At Eco Tech, we take pride in our highly efficient pest control process from start to finish. Once you pick up the phone to give our wasp and nest removal team a call, we'll work with you to find a convenient time for us to inspect your property. From there, we'll identify all of the wasps and any nests that reside around your property. We'll provide you with an affordable removal quote and if you'd like to continue with our services, we'll get the extermination process going in no time. To top things off, we even incorporate preventative measures to help make sure that wasps and wasp nests do not continue to call your property home in the future.
So, if you are in the Minneapolis, Minnesota area and are in need of a reputable wasp and nest removal company to partner with, look no further than Eco Tech. Using organic removal products, we'll have your property wasp-free in no time. To schedule an inspection, give us a call today at (763) 785-1414.