Archive for the 'Minneapolis MN Bee & Wasp Control and Nest Removal' Category
Wasp Bee Exterminator Minneapolis, MN
Last Updated on Saturday, 10 March 2018 05:24 Written by Pest Control Expert Saturday, 10 March 2018 05:22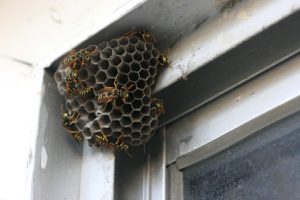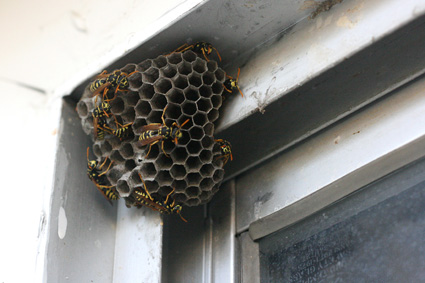 Does anyone else get that hair raising, goose-bumping, freaked out feeling when they all of a sudden have a wasp buzzing in their ears? Buzzzzzzzzzz!!! It's funny how something so small can cause so much mayhem. Whether you are scared of bees or allergic, it's never a good idea to have them in your home. Wasps are not meant to live on your windowsill or anywhere inside of your home. If you have a wasp problem in Minneapolis or the surrounding suburbs, let EcoTech help you control the issue.
Too Buzzy For a Wasp or Bee Problem
So why are bees so bad anyways? Most would argue that they wouldn't be half as much of a problem if it weren't for their stinging capabilities. When bees sting you, they hurt! Even if you can tolerate the pain of a bee sting, it doesn't mean that everyone else can. If you are allergic to their stings, having a bee in or around your home can be the difference of life or death. The truth is, bees are found everywhere and can nest in some less than ideal places. Trees, holes, and even cracks and holes in your home are all fair game for our yellow and black stingers. This is why it's important to call EcoTech right away when you notice a problem.
Nontoxic  Organic Wasp Removal Services Minneapolis
At EcoTech, we like to get a thorough assessment of what's going on before we act. We want to be as efficient as possible and finding the large nest first is a must. We are trained in handling even the most angriest bees and removing them from any area. We will remove these pests from your home or business quickly while still keeping your environment safe. Using a nontoxic organic product line, our treatments will not harm people, pets, or the environment and does it more efficiently then the toxic stuff.
So the next time the hairs on your neck stand up when that buzzing sound occurs, don't freak out! Just call EcoTech today! For more information about wasp and bee removal in Minneapolis and surrounding suburbs, contact EcoTech at 612.237.8282.
Wasp Nest Exterminator
Last Updated on Wednesday, 14 June 2017 11:37 Written by Pest Control Expert Wednesday, 14 June 2017 11:37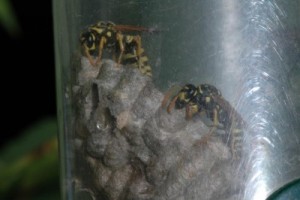 As the weather begins to warm and you break out the outdoor furniture, you might be noticing that a few wasps' nests are already popping up around your property. If you're like most people, wasps' nests are not a welcome sight. Wasps can be terrifying for the majority of us, but for those with wasp and bee allergies, spotting a wasps' nest can cause a stressful situation to turn much more serious. When you find a wasps' nest or see wasps around your property more frequently than you'd like, don't hesitate to contact Eco Tech's Minneapolis, MN wasp nest exterminators. With our traditional and organic wasp and wasp nest exterminator treatments, we'll keep your property safe throughout the year. Whether it's your commercial or residential property, you can rest assured we'll completely remove any wasps' nests we find, ensuring that your wasp problem is eliminated.
Non-Toxic Wasp Sprays
If you've ever had a wasp problem on your property before, you know that the chemical sprays used to exterminate wasps and wasps' nests can be hazardous to you, children, and pets. Often times, you'll have to vacate an area of your property for a matter of hours – if not longer – just to escape the chemicals used on a wasps' nest. However, one of the many benefits of working with Eco Tech is that you'll have the choice of traditional or organic, nontoxic wasps' nest treatments, which are safe for you, children, and pets! That means that when you're trying to get rid of the wasps in your home or business, we don't have to get rid of you (or anyone else around) in the process!
Emergency 24-Hour Wasps' Nest Removal
While not every situation calls for emergency extermination services, wasps' nests are something that many people fear – and for good reason. Being stung by wasps is unpleasant, at best, and when you have an allergy to wasps, or you're stung multiple times by wasps, you'll understand the need to have a wasps' nest removed as quickly as possible. We understand that need, and that's why we provide 24/7 emergency wasps' nest extermination services, ridding your property of wasps' nests as quickly and safely as possible to avoid any negative consequences that could arise from letting wasps live on your property for too long.
Commercial and Residential Expert Wasp and Wasp Nest Exterminators
Whether it's your home or your business, protecting everyone on your property from the dangers of a wasps' nest is important. Especially for commercial properties, though, when you don't know who might be allergic to wasps, it's imperative that you call in an expert wasps' nest exterminator as soon as possible. At Eco Tech, our Minneapolis, Minnesota wasps' nest exterminators will be there to make your property safe again whenever you call. To contact us today, call our regular services numbers, 612.237.8282; 952.881.6662; 651.633.8600, or 763.785.1414, or call 763.232.7296 for emergency wasps' nest removal service.
Insect Extermination Company
Last Updated on Thursday, 23 March 2017 11:18 Written by Pest Control Expert Friday, 24 March 2017 11:15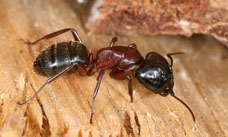 Have you ever had friends or family over for a gathering at your Minneapolis, MN home and an unexpected insect made an appearance at the party? Obviously, the insect wasn't on the guest list, and chances are your friends or family were creeped out! At EcoTech, we are a local insect extermination company that will help ensure that no insects will show up at any of your get togethers in the future!
Natural Insect Control
There is a lot of competition in the insect extermination industry around Minneapolis. What sets our company apart from our competition is that we take a natural approach to insect control. Taking the organic approach to insect control gives our customers the peace of mind that their kids and pets will not be harmed by any of our applications. Additionally, those other animals outside your home that you are not trying to get rid of will not be harmed if they come into contact with these insects.
Ample Experience
At EcoTech, our extermination specialists have more than 50 years of combined experience. So, you can bet that we have come into contact with just about every type of insect that calls Minneapolis home. Through our experience, we've been able to master the insect extermination process and also take the necessary steps to keep the insects away in the future!
Common Insects
Many of the insects that we are called to get rid of in Minneapolis homes include:
● Ants
● Beetles
● Box Elder Bugs
● Crickets
● Earwigs
● Fleas
● Grubs
● Lice
● Millipedes
● Roaches
● Silver Fish
● Spiders
● Bees
How it Works
At EcoTech, we have a proven process when it comes to insect extermination that is easy on the customer and effective. This 4 step process includes:
1. Pick up the Phone – Our team doesn't know about your insect issue until you pick up the phone and give our team a call. We'll set a convenient time for one of our experts to stop by and even offer 24 hour service if it's an emergency.
2. Inspect – Once we arrive, a thorough inspection of your entire home will be performed to ensure that all of the insects are identified. Our extermination specialist will come up with an effective plan and provide you with an affordable quote.
3. Exterminate – Now the important process begins. Our natural insect extermination application will be applied in the affected areas so that all of the insects inside your home will be gone.
4. Prevention – Our team doesn't stop once we've gotten rid of the insects in your home. Next, we provide you with prevention measures to ensure that these unwanted insects do not return to your home in the future!
So, if you've recently hosted a party at your Minneapolis, MN home and have been embarrassed by unwanted insects that showed up unexpectedly, our team at EcoTech can help! Team up with our experienced and affordable insect extermination team and let us provide you with natural insect control. Give us a call today at (763) 785-1414 and we'll set up a time to come inspect your home for unwanted insects.
Posted under Bee & Wasp Control, Bee Control, Beetle Removal, Box elder Bug Control, Carpenter Ants, Green Pest Control, Minneapolis MN Bee & Wasp Control and Nest Removal, Minnesota pest removal, Organic Ant Control, Pest Control Exterminator, Roach Removal, Silverfish, Spiders, Ticks, Wood Ticks | Comments Off on Insect Extermination Company
Wasp Removal MN
Last Updated on Friday, 21 October 2016 09:56 Written by Pest Exterminator MN Friday, 21 October 2016 09:56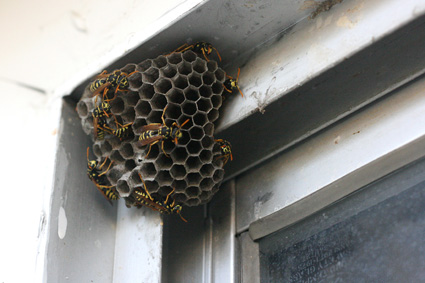 Have you had enough of wasps that have built a nest on or near your property or home? If you've been dealing with dodging the wasps that fly to and from their nest outside your home or business, it's time to call in the wasp removal experts in MN.  At Eco Tech, the top Minnesota natural pest control and pest removal service, we use an all-natural method to remove wasps in order to keep you safe in more ways than one.
The Problem With Wasps
You might have noticed a wasp nest up high on the exterior of your home or building. Maybe you've seen them buzzing around outside areas where you like to spend your time. Some bees are known to build nests underground, and surprising them while doing yard work, or having your kids or pet innocently play near their underground nest can be very dangerous.  While you may think you're safe from wasps, especially when they live higher up, there are important facts you should know about wasps.
Wasps Can Sting!
Not only are wasps nests unsightly, but the wasps themselves pose a threat as they have the ability to sting. Some species of wasps are aggressive and will sting when provoked or threatened. Wasps are capable of stinging multiple times, unlike honey bees. There's no need to allow wasps to threaten your safety, call Eco Tech for safe, natural wasp removal services in MN.
Natural Wasp Control In Twin Cities Metro Area
When you contact Eco Tech to tackle your wasp problem, our professional team member will inspect your problem area. Once we've identified your wasps and the location of their nest, we will formulate an effective treatment plan that includes safe removal of the wasps and we'll keep them from returning.
Natural Wasp Spray Treatments In Twin Cities Metro Area
Are you looking for a natural pest control for wasps in the Twin Cities Metro area? Our products are not harmful to the environment, which means your kids and pets can continue to safely play and spend time outdoors, with no threat of poisonous chemical sprays.
Learn More About Natural Pest Removal In MN
If you are having a problem with wasps in the Twin Cities Metro area and you'd like an inspection of your business or home, contact us today by calling 763-785-1414, or click here to complete our online contact form.
Wasps Exterminator Minneapolis
Last Updated on Thursday, 18 August 2016 05:14 Written by admin Friday, 19 August 2016 05:04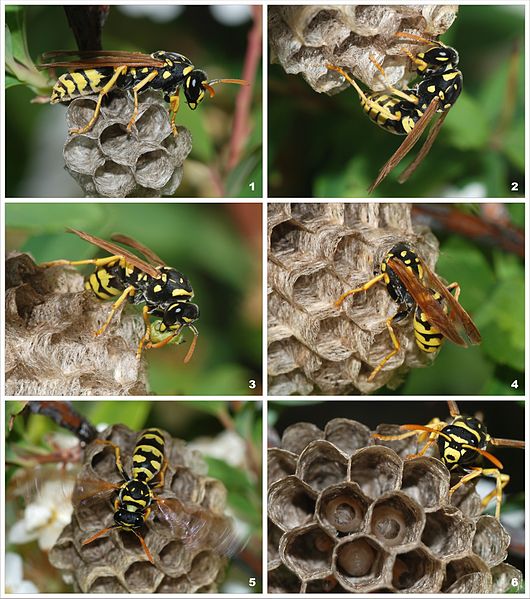 It happens every year, the warm, beautiful summer weather in Minneapolis comes and brings the stinging insects along with it. If wasps are getting in the way of your summer fun, then you'll want to take care of them right away. One problem with wasps is that they can become quite aggressive and have the ability to sting multiple times. On top of all this, wasps can signal other nearby wasps to come and assist them in their attack.  So while their nest might be located high up and away from your action, don't take the chance with these aggressive pests. Eco Tech will send out a trained wasp exterminator to rid your home or business of wasps and their nests so you can truly relax and enjoy your yard this summer.
Need Help To Get Rid Of Wasps?
If your home or business is being invaded by wasps, hiring a professional pest control team will be the quickest, easiest, and safest way for you to get rid of them. When wasps are coming into your home or business, don't bother with trying to locate the nest yourself, call the experts in MN wasp extermination. Professional wasp extermination in Minneapolis is just a phone call away with Eco Tech who will locate the wasp nest, and remove wasps from the interior and exterior of your home or business. When you rely on Eco Tech for the most effective, non toxic wasp treatment in Minneapolis, you have the assurance that the wasps will be eradicated from your home or building, while your family, pets, yard, home, and business, are safe from all the harmful chemicals that most large pest exterminators are using. Non toxic wasp extermination is available and we can't think of a safer or more effective way to exterminate wasps from your home or business.
Remove Stinging Insects From Your Home Or Business
Not sure if what you're seeing is a wasp, hornet, or yellowjacket? Whichever of the three stinging pests you're dealing with, you can be sure it is aggressive! Don't take the chance of being stung by one, or an entire nest of stinging insects, call the pros at Eco Tech where you'll have a choice of natural or traditional methods of wasp nest removal and our 24/7 service. After we're done, you won't have to worry about every step you take outside and if something is hovering right behind you. Call us today at 763-785-1414 to schedule a convenient expert wasp exterminator appointment.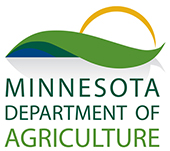 Certified Master Technician
Hours of Operation
Monday - Sunday
7:30am - 6pm

24/7 Emergency Service Nights & Weekends

Service Area: Twin Cities Metro