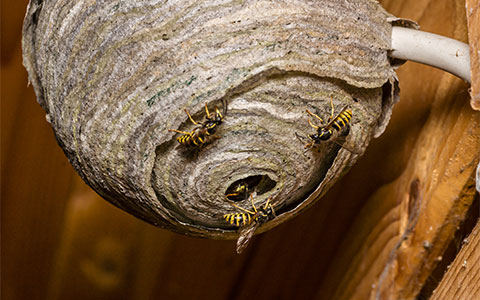 Unlike bees, wasps are able to sting repeatedly without dying and generally evoke fear in humans.  However they are extremely beneficial to humans, as they help control the pest population.  But, when wasps invade our home or property, it can be difficult for non-professionals to get out of a living space.  Wasps can nest almost anywhere.  You may find a nest under your gutters, hanging from a tree branch, in the knothole of a tree, in your garage or attic. Even if you find a wasp nest in a location that is relatively easy to reach, it may not be safe to remove the nest on your own.  Our trained professionals at Eco Tech have the knowledge, experience, and expertise to rid your home of wasps and their nests.
All Natural Pest Control
Eco Tech offers all-natural, organic extermination methods.  Our goal is always to return your home to a state of comfort and safety by completely removing the wasps that have nested in your living space. We recommend using non-toxic products to ensure that humans are not exposed to caustic chemicals.  Our priority is your health and safety.
We have worked hard to establish a good reputation in the communities we serve, and the best way to maintain a positive reputation is to always do good work.  One positive outcome of focusing on excellent customer service is that we are certified by the Better Business Bureau.  Further, we guarantee our work for 30 days in order to reinforce your confidence in our capacity to properly remove wasps from your home.
Pests that nest in your home can be a nuisance and some pests, like wasps, can actually pose a physical danger to us.  Wasp stings are extremely painful, especially for people with allergies to them.  And if wasps discover you before you discover them, you could be dealing with a lot of stings.  At EcoTech, we not only remove wasp nests after you find them, we are happy to provide preventive care to eliminate the possibility of new nests forming.  If you have found a wasp nest on your property, we will happily respond promptly to your request for service so that you do not have to worry about being stung multiple times.
Wasps can in our area can be aggressive, especially, and if you happen to be one of the many people who are allergic to them, we highly recommend letting us do the work to remove them properly and thoroughly. If the pests that have invaded your home have caused structural or other damage to your property, we can fix that too.  To contact us, you call Eco Tech anytime at (763) 232-7296.