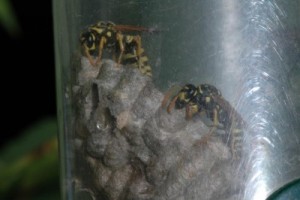 As the weather begins to warm and you break out the outdoor furniture, you might be noticing that a few wasps' nests are already popping up around your property. If you're like most people, wasps' nests are not a welcome sight. Wasps can be terrifying for the majority of us, but for those with wasp and bee allergies, spotting a wasps' nest can cause a stressful situation to turn much more serious. When you find a wasps' nest or see wasps around your property more frequently than you'd like, don't hesitate to contact Eco Tech's Minneapolis, MN wasp nest exterminators. With our traditional and organic wasp and wasp nest exterminator treatments, we'll keep your property safe throughout the year. Whether it's your commercial or residential property, you can rest assured we'll completely remove any wasps' nests we find, ensuring that your wasp problem is eliminated.
Non-Toxic Wasp Sprays
If you've ever had a wasp problem on your property before, you know that the chemical sprays used to exterminate wasps and wasps' nests can be hazardous to you, children, and pets. Often times, you'll have to vacate an area of your property for a matter of hours – if not longer – just to escape the chemicals used on a wasps' nest. However, one of the many benefits of working with Eco Tech is that you'll have the choice of traditional or organic, nontoxic wasps' nest treatments, which are safe for you, children, and pets! That means that when you're trying to get rid of the wasps in your home or business, we don't have to get rid of you (or anyone else around) in the process!
Emergency 24-Hour Wasps' Nest Removal
While not every situation calls for emergency extermination services, wasps' nests are something that many people fear – and for good reason. Being stung by wasps is unpleasant, at best, and when you have an allergy to wasps, or you're stung multiple times by wasps, you'll understand the need to have a wasps' nest removed as quickly as possible. We understand that need, and that's why we provide 24/7 emergency wasps' nest extermination services, ridding your property of wasps' nests as quickly and safely as possible to avoid any negative consequences that could arise from letting wasps live on your property for too long.
Commercial and Residential Expert Wasp and Wasp Nest Exterminators
Whether it's your home or your business, protecting everyone on your property from the dangers of a wasps' nest is important. Especially for commercial properties, though, when you don't know who might be allergic to wasps, it's imperative that you call in an expert wasps' nest exterminator as soon as possible. At Eco Tech, our Minneapolis, Minnesota wasps' nest exterminators will be there to make your property safe again whenever you call. To contact us today, call our regular services numbers, 612.237.8282; 952.881.6662; 651.633.8600, or 763.785.1414, or call 763.232.7296 for emergency wasps' nest removal service.