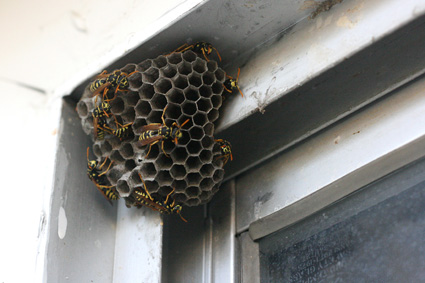 Have you been trying to enjoy yourself outside this summer only to have a large wasp swoop down and startle you? If so, it's likely that you have a wasp nest somewhere close by. Wasps are notorious for building nests in areas where we frequent such as carports, decks and screened porches. Take back your home this summer by contacting the experienced wasp exterminators at EcoTech so that you can enjoy the nice summer weather here in Minnesota.
Wasps come in a wide variety of shapes and sizes, which can sometimes make them difficult to identify. In addition, they can also sting multiple times, unlike bees which typically sting once and release their stingers. If you or a family member is allergic to wasp stings you may be living in fear that anytime you go outside you're going to come in contact with a wasp nest, and potentially be stung.
Effective Wasp Extermination Services
At EcoTech, we've been a fixture in the Twin Cities Metro area for many years. We've seen a wide variety of wasps, and we always get an uptick in calls in the summer when these pesky critters are usually out trying to build nests in and around our homes. If you've seen a wasp or two around your home or business, it's best to give us a call right away so that we can come out and identify and destroy any wasp nests to help to cut down on the pest problems you'll have.
Common Signs of a Wasp Infestation
Depending on the species of wasp, they'll create their nests either from chewed wood or mud. The first sign that you may have a wasp infestation is simply the presence of more wasps around your property. Wasps typically like to build their nests in the following areas:
Garages, outbuildings and carports
Attics
Rafters
Overhangs or eaves
Inside grills
Around swing sets or other play structures
Decks, patios or around pools
If you notice a wasp nest, it's best to leave it undisturbed and immediately contact a wasp exterminator like EcoTech. Our exterminators are highly trained in how to handle wasp infestations without getting harmed. If you have young children, it's especially important that you get help at the first sign of a wasp nest.
Reach Out to EcoTech Pest Control Today for Help With a Wasp Infestation
Feel free to reach out to the EcoTech team today by phone at 763-785-1414 to setup a consultation with one of our experienced wasp exterminators. Our phones are monitored 24/7 to ensure that we're always here when you need us. We look forward to helping you take back your outdoor spaces once and for all!