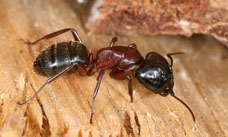 No matter what time of the year, ants can become a problem in your household or office building. Leaving behind a few leftover food items can be just enough reason for ants to invade your facility or home. When times like these arise, many people take a trip down to the local home improvement store and invest in expensive do-it-yourself extermination products that often are not very effective. It's time to leave your ant extermination needs to the professionals at Eco Tech. Serving the Minneapolis, MN area with environmentally friendly ant extermination services is what we pride ourselves on.
Ant Exterminator
With over 15 years of pest extermination experience, you are investing in a team of professionals that can get the job done humanely, safely and quickly. Unlike some of our competitors, our natural pest control methods ensure that your family, coworkers, and pets are left unharmed from any damaging chemicals that you may find elsewhere.
How It Works
Initiate the Call

– Give our team a call as soon as you notice that you have been infested by ants.

Inspect

– One of our experienced staff members will provide you with a full inspection providing you with where the ants are located, how they got in, and a proper treatment plan.

Exterminate

– Once we have an agreed upon date, one of our team members will exterminate the ants throughout your home or office building.

Repair

– If there was any damage caused structurally by these ants, no need to worry. Eco Tech can be your one stop shop for extermination and repairs!

Prevention

– Arguably the most important step. What good is extermination if the ants just come right back? We provide a 30 day warranty, ensuring that these ants will not return. This is a warranty that cannot be matched in our industry today.
If you live in Minneapolis, and are looking for effective extermination services to get rid of your ant issue, call Eco Tech today at (763) 785-1414. Not only will you enjoy our service, but you will also find comfort in knowing that our extermination products are not harmful!