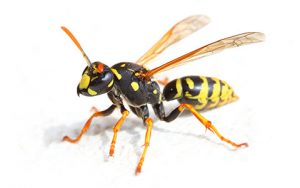 Bees are extremely active this time of year.  They buzz all around us at the park, on the baseball and soccer fields and even in our own lawns.  They look for the perfect place to nest and then they are extremely difficult to get rid of.  If you have a bee or wasp problem on your commercial or residential property, call Eco Tech, a leading Minneapolis Pest Control Company for assistance. Our team can locate and eliminate bees and wasps at the source — their nest, so that you do not have to battle them all summer long.
Eliminating Bee And Wasp Nests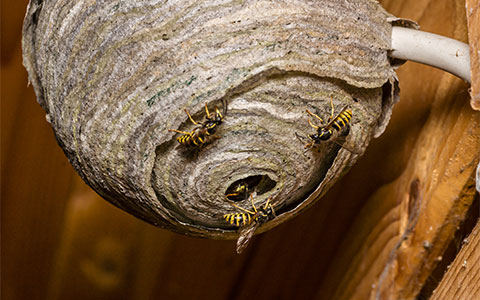 Gutters and fascia are perfect nesting spots for bees and wasps and provide an easy entryway into your home. Stop these pests in their tracks this season with the help of the bee and wasp exterminators at Eco Tech.  No more worrying about getting stung or about a potential allergy for a loved one or guest in your home.  Killing these pests one at a time does not get rid of the problem, only eliminating their nests will solve it.  Our experienced team of exterminators know how to handle bees, wasps and their nests.
All Natural Minnesota Pest Control Company
Eco Tech is a natural pest control services company that uses a non toxic product line to get rid of these pests.  This product will only kill the bees and wasps and will not harm you, your kids or your pets.  With 50 years of combined experience in the pest control business, we keep current with all industry advancements, and we are familiar with the pests that inhabit the Minneapolis, MN area.  Not only can we eliminate a current bee and wasp problem, but we can also prevent future problems in and around your home.
Superior Customer Service And No Contracts
We take pride in our customizable insect programs and strive to provide strong customer service to each of our clients. We offer a 30 day warranty on our work and have received an A+ rating from the Better Business Bureau.  One thing that sets us apart from our competition is that we do not force annual contracts on our customers.  As a result, you can be confident that you are not paying for services that you do not need.  So, if there are bees and wasps buzzing around your property this season, take care of them once and for all.  Call Eco Tech now at 763-785-1414.