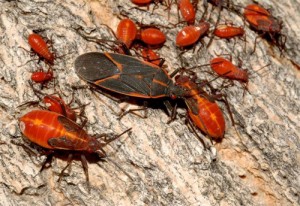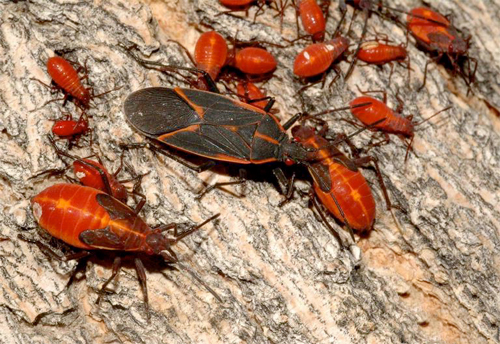 Have you seen an influx of those colorful but still creepy looking bugs entering into your home in the early spring or late summer months? They are typically dark brown or black, and decorated with a splash of red wing veins and markings on the abdomen. As pesky as these critters may be, they mean no harm. The Box Elder bug is a North American bug that is typically found on boxelder trees, maple trees, and ash trees. However, during the late summer and early spring, these bugs are looking for warmth and, if not prevented, the Box Elder bug can find its way into any Ham Lake, MN home. Fortunately for you, Eco Tech is here to help!
Are Box Elder Bugs Harmful?
This species of bug, the Box Elder, is named after the tree it typically inhabits. During the spring and early summer months, these critters can be found on a boxelder tree mating away! Unfortunately, as it gets cold, they flee to just about anywhere looking for warmth. The good news is that Box Elder bugs carry no diseases that threaten either you or your houseplants. However, they do give off a foul type of excrement that can stain surfaces and damage your property. For this reason, Eco Tech is here to help eliminate the problem from your home!
All Natural Methods
At Eco Tech, we strive to serve the Ham Lake, MN community with the best quality product and customer service around. We have over 15 years of Box Elder bug removal experience and we are ready and willing to get to work! A long time ago, we decided to set ourselves apart from the competition and really focus on the environment. All too often, extermination companies come to people's homes and fumigate that problem so much that the family cannot be in the home for several hours. Eco Tech prides itself in the all natural methods that we use to safely treat the problem. Your children, pets, other animals, and the overall environment is never harmed when using our less toxic organic product line. Our professional exterminators will inspect the home, find the problem, treat with our humane organic line, and then take prevention measures to keep this from happening again!
So if you live in Ham Lake, MN and have begun to notice more and more Box Elder bugs in and around your home, it's time to give Eco Tech a call. Call us today at 763.785.1414.