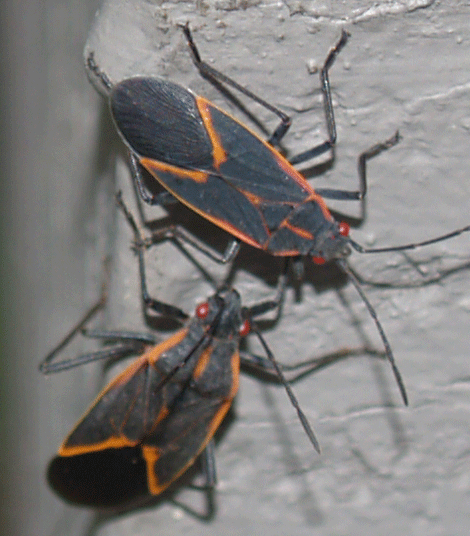 Box Elder bugs generally stay outside, perched on female Box Elder trees in Minnesota where they mate.  They can cause significant damage to trees and are not harmful to humans.  However, they generally try to seek warmth as winter months approach and you may start to find them in your home.  As with other pests, they are a nuisance and likely not welcome guests in your home.  In order to get rid of these bugs from your dwelling, your best bet is to hire a pest control company to take care of the problem.  Eco Tech offers natural pest control services to those in the Minneapolis, MN area.  As a local company with more than 15 years of experience, Eco Tech can find and eliminate the source of the box elder bug problem, as well as the bugs that have made their way inside.
Experienced Box Elder Bug Exterminator Minneapolis MN
The good news about box elder bugs is that they are not harmful to humans (or pets) and generally do not damage your home. They can, however, stain surfaces around your home with their excrement.  So, they are definitely not bugs that you want to live with.  And, very often our professional exterminators often find many more box elder bugs present than you would expect.  Eco Tech uses less toxic, environmentally friendly products that are safe for you, your family and your pets, but will do the job and eliminate the pests invading your home.
Local Pest Control Company Minneapolis
Eco Tech is a unique pest control company in that they do not require lengthy contracts from their customers. They only want to provide the services that are needed – and have a loyal following as a result.  With an A+ rating from the Better Business Bureau, the professionals at Eco Tech focus on providing superior customer service and affordable pricing.  We also stand behind every single job and are committed to eliminating your pest problem permanently, not just until the next season.  And, once the pests have been exterminated, our team can make the necessary repairs on your property to restore it to its previous state and prevent the bugs from returning.
If you think that you have box elder bugs in your home, or are battling any other type of pest, call the Eco Tech team at 612-237-8282 to schedule an appointment to have a member of our team come to your home for an analysis.