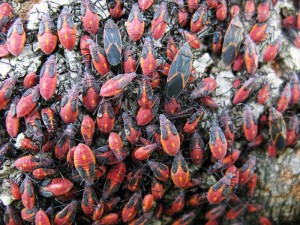 Box elder bugs are common throughout Minnesota. They are black in color and are worked by red lines along their back and sides. Their wings are flat and red in color and they usually grow between 11 to 15 mm in length.
Although they may seem common all the time, in actuality box elders do not nest indoors year-round. They make their homes in box elder, maple and ash trees during warmer seasons and migrate into buildings and homes to find shelter from the cold. Due to the cold temperatures in Andover, Coon Rapids, Oak Grove and Ham Lake, Minnesota it is common to have box elder bugs nest in your home. Oftentimes, when the weather cools off, the bugs will sense the warmer temperature and make their way indoors and usually in areas of a structure's walls. Although they do not cause damage to buildings, their droppings are unappealing and can leave stains on furniture, carpet, clothes and other fabrics.
How do you know if you have a Box Elder Bug Infestation?
Like most overwinter pests, the most intense sign of the bug is when you notice them, and not just one or two but you notice them in large numbers. They will usually appear on sunny sides of buildings in the fall and will invade the home when it cools down. Although you may be worried about them feeding on the interior of your home or reproducing, luckily they do neither in the winter and are only looking for shelter.
How to prevent box elder bugs?
In the north metro area, there are a lot of wooded areas which make it easy for box elders to populate. If you are interesting in reducing or eliminating box elder bugs from near your home it is smart to remove their host trees from the area surrounding your home. Although this will be helpful, the adults can still fly and are able to travel good distances. These insects can also get in through windows and doors; ensure that these close properly and utilize screen doors to keep box elder bugs from entering.
To guarantee absolute elimination of all Box Elder Bugs your best bet is hiring an exterminator. Hiring a professional can help you determine what trees these insects are living and breeding in, can help point out not obvious points-of-entry, and also at Eco Tech we use organic chemicals that will not harm you, your family, pets or the surrounding critters, trees and plants. We proudly serve Anoka County, Andover, Ham Lake, Oak Grove and Coon Rapids and if you are in need of any services we are the ones here for you!