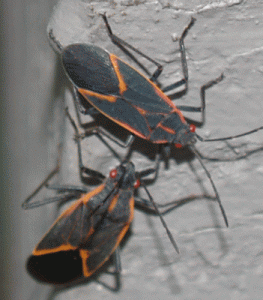 Boxelder bugs are common pests over much of the United States. Adults are about 1/2 inch long and are bright red or black with red lines down their back. Box Elder bugs are a common insect found in Minnesota and are often a common problem, especially during the spring and early summer.
These insects feed primarily by sucking juices from the box elder tree, but are sometimes found on other plants.They do very little damage to the trees they attack, but at certain times of the year they can become a nuisance. Box elder bugs develop by gradual metamorphosis, from egg, to nymph, then to adult. Adult box elder bugs enter homes and builders throughout the year trying to find shelter. They are small and can fit through small cracks, under windows and around the foundation. Oftentimes you will not even realize you have an infestation because they will lay quiet throughout the winter until the sun comes out and they come out to soak up the heat.They will then emerge in the spring to seek out host trees on which to feed and lay eggs.
The eggs of box elder bugs are reddish brown in color, and have adapted this coloring to allow them to stay well hidden in the bark of the host tree. After only a few days they eggs hatch into red and gray nymphs, eventually maturing to only begin the breeding process again.
During the winter months these bugs do not feed or reproduce but oftentimes find refuge in your home and on the side of buildings. Until it gets warm again, oftentimes you will not realize you have an infestation until it's spring and the bugs emerge in mass numbers. To stop box elder bugs from multiplying, it is often helpful to remove their host trees from the area surrounding your home, but the adults can still fly from locations off the property.
If you are having any issues your best bet is hiring a professional exterminator experienced in removing Box Elder Bugs at your property. What you may not realize is that the ones you see are not close to the number you may have. That is why it is important to hire a professional pest control company. At Eco Tech we guarantee to rid your property of these annoying pests using our less toxic organic product line. Our company uses safe chemicals that will not hurt any member of your family including pets. This is important and is often a risk when you decide to use store-bought pest control products. Let the professionals help you when it comes to eliminating pests.