Pest Control MN | Box Elder Bugs
As the days get shorter and the days and nights get cooler, this is a cue to people that summer is over and fall has arrived. That is also a sign for insects, signaling them that they need to prepare for winter. For box elder bugs and Asian beetles, this means finding sheltered places to overwinter which unfortunately can mean our homes. Maybe your home!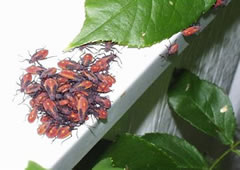 This year they have been in epic proportions. Box elder bugs have emerged in huge numbers this year thanks to the warm spring followed a hot dry summer, the perfect conditions for them. As many as several thousand have been found congregating outside on windows, doors, porch decks, etc., often getting indoors and creating quite a pest problem for Minnesota homeowners.  The bugs particularly favor south and west exposures.
Many people have never noticed them at all before. The half-inch black bugs with a couple of streaks of red on their backs are usually around in warm weather, but not in such numbers as we have this year. Box elder bugs have been swarming like a plague. They just keep coming and coming.
The good news is that unlike some household pests (e.g., fleas and cockroaches), they do not reproduce indoors and are essentially harmless. The worst they can do to your property is stain surfaces with their excrement.
They move through cracks in the foundation and siding (especially if there is vinyl siding), gaps along the window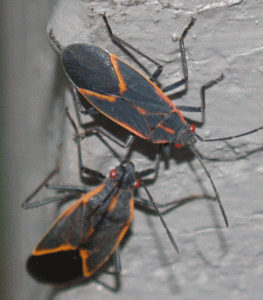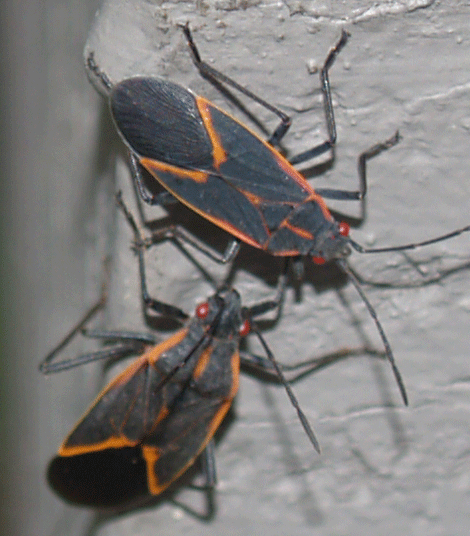 s and doors and other small openings.  While in the walls or attics they are inactive as long as they are cold.  Warm winter days can fool insects into thinking that spring has arrived. If they get warmed by heat from the furnace or the sun they become active during the winter and that's when they crawl into the rooms where you can see them.  And probably leave spots on your walls.
There is no good way to figure out when and where a problem will be until it starts.  By then it is probably too late for treatment.  Box elder bugs can be controlled on the trees in the mid summer with insecticides (labeled for box elder bug control) but it will probably not work well.  Spraying large trees is difficult and is usually impractical.
Keep Box Elder Bugs Out Of Your House!
Same as with the Asian Lady Beetle, the best way to keep Box elder bugs out of your house is to seal all possible entry sites.  You can spray to reduce the number outside to limit the number that will get inside.  You can use a lawn and garden insecticide or soapy water spray (which is 5 Tablespoons of liquid detergent to a gallon of water) on masses of bugs on and along the foundation in the fall.  You may have to repeat the applications especially when you use the soapy water spray.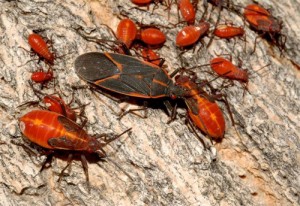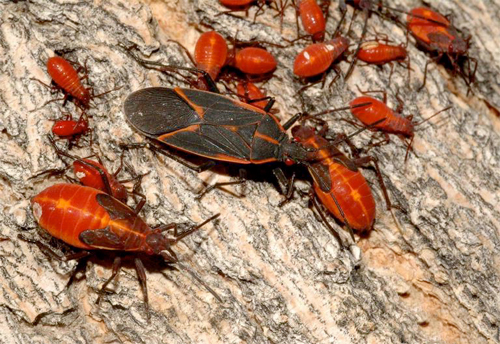 There is no easy way to get rid of box elder bugs that are already inside the house.  They are usually not killed by the household aerosol insecticides and most are not of much benefit.  The best way to control bugs already in the house to is vacuum, sweep or pick them up and discard them.  Sounds familiar!
Removing all box elder trees in an area will prevent breeding. Caulking windows and doors, and making repairs to window and door screens will also prevent bugs from entering your home. This will also help prevent entry of flies, bees & wasps, crickets, spiders and other pests.  But to guarantee absolute elimination of all Box Elder Bugs your best bet is hiring a Minnesota Pest Control Expert.
Fall and winter is also the time of year that mice and rodents tend to make an appearance inside homes. Like bugs, house mice and deer mice are seeking out a warm place to live for the winter. But unlike box elder bugs, they pose a threat to humans in that they can spread diseases like the Hantavirus.
The University of Minnesota offers tips on dealing with box elder bugs gathering in or outside your home.
Printer-friendly PDF version (1.1 MB) of  Tips on dealing with box elder bugs