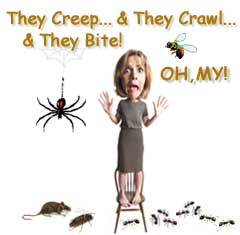 There are many types of pests that may invade your home or property each season. And it can happen under your nose, literally, until the pest problem gets so bad that it's impossible to ignore. Eco Tech is a natural pest control service that services the entire Minneapolis, Minnesota area, offering 24/7 humane pest control service to our customers all over the area. Our team of experienced professionals can respond to your need immediately, as soon as you notice a problem so that it can be eliminated and your home can return to normal.
Different Types Of Pests EcoTech Can Remove
Eco Tech's natural, organic pest control solutions is highly effective for a wide variety of pests including:
● Ants
● Asian Beetles
● Beetles
● Box Elder Bugs
● Crickets
● Earwigs
● Fleas
● Grubs
● Lice
● Millipedes
● Roaches
● Silver Fish
● Spiders
● Wasps
● Bees
In addition to these insects and pests, our pest control professionals can also help rid your property of moles, mice, snakes, rats, bats, squirrels, raccoons, or other wild animals that have invaded your property or your yard.
Pest Control Process
The first priority for the EcoTech team is responding to your needs quickly. They understand that pest issues happen all the time, during the nights, weekends and holidays, so we respond accordingly. We can come to your home or property quickly and assess the situation, identify the problem as well as where any pests are coming from. Our team will provide you with a competitive quote that is simple and easy to understand so that you can decide if you want to move forward with our pest control service. We do not require monthly contracts so that you can be confident that you will not pay for services that you do not want.
Our pest control specialists are highly trained, experienced and provide each customer with superior customer service. With an A+ BBB rating, you know that you are working with the best in the business.
Eliminating a pest control problem is one thing – but, the Eco Tech team goes one step further. After we eliminate the pests, we can help make necessary repairs to your home and take other preventative measures to ensure that the problem does not recur.
Immediate Pest Control Management
If you find that you have a pest problem in your home or business, do not delay. Contact the team at Eco Tech today at 763-785-1414 for more information and an immediate response to your need.