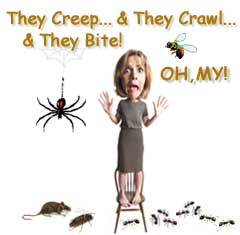 Eco Tech is a Minnesota natural pest control business that is professional and family owned. We have more than 50 years combined experience in the pest control business, and we are always keeping up-to-date with industry advancements, new technology, and is extremely familiar with the local pests of Minnesota. Not only will we eliminate your current pest problem, but we will take precautions to avoid future problems. We take pride in our customizable insect programs, with no annual contract fees, inspection and all repairs warrantied for 30 days.
Eco Tech provides high-quality pest control and extermination services from a number of species. We steer away from synthetic poisons and aim to healthier alternatives that are very effective. The earth, the ecosystem, and your children and pets of course, are safer with Eco Tech's Natural Pest Control treatments. Using this model we take environmental toxicity into consideration while protecting people and their homes with effective pest solutions.
Eco Tech's well-trained, local technicians provide Natural Pest Control Treatments throughout Minnesota. Your extermination and pest prevention services are consistently rated excellent by our customers. We continue to develop the newest standards in environmentally friendly pest control.
When you work with Eco Tech, we do more than just get rid of the pests, we prevent them from coming back. We work with our customers to help teach them techniques to ensure they will not return. Also, we repair any damages they have caused, and make sure we prevent them from re-entering. We have a 17 point inspection sheet. This inspection sheet covers any area where pests or animals may enter your home.
If you found a pest and need help determining if your home is under attack by a Wood Destroying Organism such as carpenter ants or termites, or unwelcome guests including disease-carriers such as cockroaches and rats, contact us and we can help find a solution. If you are unsure whether you need pest control or extermination services, contact us to schedule an inspection. Our goal is to put your mind at ease and develop lasting relationships within the neighborhoods we share and protect.
Contact Us
We are located in Blaine, Minnesota and serve the entire Twin Cities Metro Area. We are open 7 days a week from 7:30am-6pm. We have three conventional phone numbers to schedule an appointment along with an emergency number for immediate response to your pest or animal problems.
To schedule an appointment feel free to reach us at:
(612) 237-8282 • (651) 633 8600 • (952) 881-6662 • (763) 785-1414
For 24/7 Emergency Service contact us:
(763) 232-7296