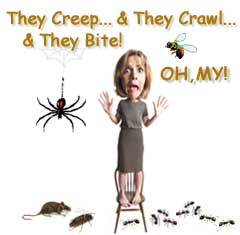 Has your home been invaded by unwanted pests? Sick of wasting your money on those pest control sprays that you find at the local hardware store? Not only do those types of products not work very well, but they can also be toxic to your pets and even kids. It is time to protect your home by partnering with Eco Tech, a team that has been providing Minnesota pest extermination services for over fifteen years! What sets us apart from the competition is that we offer environmentally friendly pest control that only fights against pests, keeping your family and pets safe!
Common Pests
Even though Minnesota gets cold during the winter, that does not mean that our region stays pest free. Pests can become a nuisance because they can cause damage and are unsanitary to have around your home. Common pests that typically invade your home include:
Our Extermination Process
Give us a Call

– The minute you find those unwanted pests in your home, give our experienced team members a call. We will set up a time to inspect your home. If immediate attention is needed, we offer 24 hour service as well.

Inspect

– Once a call is initiated, one of our professionals will come and perform a full service inspection on your home. Searching for the pests, looking for nests and developing a treatment plan is the main focus of our inspection. An affordable quote will be provided, no contract required.

Exterminate

– Using our all natural, eco friendly products, extermination of your pests will begin.

Repair

– If these pests caused damage to your home, no need to call a repair man. Let us be your one stop shop for not only pest removal but also repairs. We specialize in repairing your home from the damage caused by these pests as well.

Prevention

– Getting rid of these creatures is just half the battle. Preventing these critters from returning is just as important. Our team will make sure you do not see these pests again for a very long time. We offer a 30 day warranty on all of our services as well.
If you live in Minnesota and need assistance with pest removal, call Eco Tech today at (763) 785-1414. Getting rid of those pests in a safe way is our specialty!