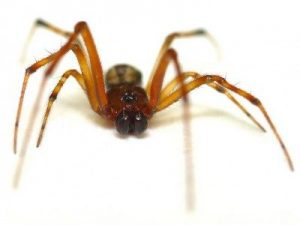 Arachnophobia is the fear or phobia of spiders. Do you get scared of spiders anytime you come into contact with them, regardless of their size? Research has shown that arachnophobia is one of the 10 most common phobias in the world. The truth is that most spiders are more scared of us than we are them. They tend to only strike when they feel threatened. For most homeowners, finding spiders in your home is not ideal. If you are in the Andover or Ham Lake, MN area, our team at Eco Tech is a spider extermination company that uses organic and less harmful products to get rid of the spiders in your home.
Organic Spider Extermination Products
As a spider exterminator, most people assume that our applications are toxic. While that is the case for spiders, our organic extermination products are designed to pose no harm to the pets and children in your home. This gives our clients peace of mind knowing that their family is safe and doesn't have to feel like they're walking on pins and needles trying to avoid the spider extermination application.
Spider Experts
When dealing with spiders, it is important to know the type of spiders that you are dealing with. Some spiders are more prevalent in damp areas, while others prefer dry conditions. The good news about living in Andover and Ham Lake, MN is that there are very few poisonous spiders in this region, but we understand that you'd still prefer that these creepy crawlers stayed outside of your home. Our spider exterminators will determine what types of spiders have invaded your house and will come up with a custom extermination plan to ensure that all of the spiders are removed.
Upfront Staff
By choosing Eco Tech, you can rest assure that there are no hidden costs when it comes to our spider extermination services. After receiving a detailed spider inspection, we'll provide you with a quote for the extermination application. Quickly, you'll find that our prices are very affordable. To top it off, we go the extra mile to provide preventative measures to ensure that these spiders don't come back to your home anytime soon.
If your home in Andover or Ham Lake, MN has experienced an influx in spiders, it is time for you to call a professional spider extermination company. Lucky for you, our proven staff at Eco Tech specialize in spider extermination services. To learn more about our organic extermination products or to request a spider inspection, give us a call today at (763) 785-1414.