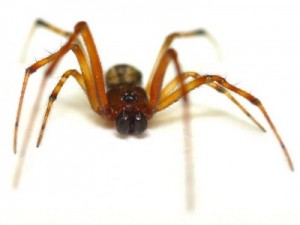 Spiders are common insects that are found all over the United States. Most of the spiders in Minnesota like moisture and are found in basements, crawl spaces and other damp parts of housing. Spiders produce silk that is elastic, adhesive and strong. The silk is used to spin webs as well as to construct egg sacs and line spider dwellings. Some spiders do not use webs, but rather burrow and live in crevices.
Spiders are extremely common worldwide and therefore all parts of the country, including Minnesota experiences spider infestations. Spiders commonly enter homes in two primary ways: entering through open, poorly screened windows and doors and through cracks and gaps around door and window frames. Most of the time spiders will inhabit your home in hopes to find prey. Another common way spiders enter homes is from accidentally being moved inside the home from a box, outdoor item and many other things that will move from one place to another.
Spiders have a large number of offspring and therefore it is common for spiders to become a problem. If you have spiders in your home it is important to contact a professional. EcoTech has the technician's, experience and proper products to take care of any infestation that you are experiencing. Our professionals will conduct an inspection and a create a comprehensive control plan that is based on the inspection findings.
Spider Extermination Company
If you are living in Andover, Coon Rapids, Ham Lake or Oak Grove and are experiencing a spider problem, you are not alone. It is very common to have a spider infestation. Oftentimes your home will be shelter for many other insects and therefore this attracts spiders. If you notice other insects in your home then it is almost guarantee that you have spiders as well.
There are many different species of spiders; therefore they live in different habitats. Some like damp areas while others like dry warm areas. Luckily in Minnesota there are few cases of poisonous spiders statewide, and therefore you should not feel at immediate threat.
At Eco Tech we pride ourselves in having the knowledge to remove pests from your home, find the problem and fix where the spiders were invading from and we also use organic chemicals. It is extremely important to use chemicals such as these especially when you have kids and pets living in your home. You do not want to take a chance with poisonous chemicals, but rather use something that you can trust. We are here for you and are ready to help you conquer any pest problem that you have.