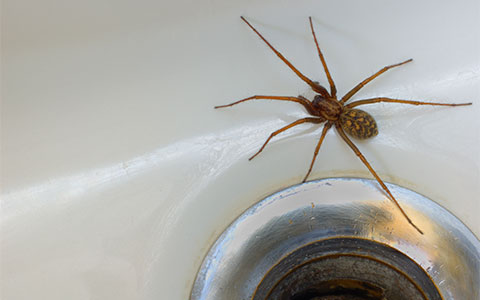 We have all heard how good spiders are for the environment.  In fact, spiders eat other pests, including mosquitoes, flies, and even roaches. In fact, spiders can even serve as a fairly effective method of pest control.  However, when you start to see too many spiders in your home, or are concerned that the spiders in your home may be poisonous, it is time to seek the assistance of a professional pest control service that can eliminate the spiders crawling around your home.  EcoTech can eliminate both spiders and other insects from your home and prevent future pest problems.
Natural Pest Control Services
EcoTech is a leading pest control company in the St. Paul area. We have built a strong reputation in large part because our primary focus is our customers. Below are some of the things our company does to set ourselves apart from the competition:
No contracts: We understand that you do not want to pay for services that you do not need, so we generally do not require contracts for our customers.
Warranty: We offer a 30 day service warranty on all of our pest control plans as well as our repair and preventative services.
Natural pest control: One concern that many of our customers have is that the chemicals used by pest control companies can be harmful to the environment, pets and/or children. So, our pest control solutions are natural, and we stay away from synthetic poisons.
24/7 pest control services: Our team also understands that pest problems do not always show themselves between the hours of 9am-5pm. You can contact our emergency number at (763) 232-7296 for an immediate response.
Professional crew: Our technicians are trained and experienced with spiders and insects in our area. They will always be prompt, friendly and courteous.
Eliminate Spiders From Your Home
There are more than 35,000 species of spiders in the world and these creatures are found everywhere.  In fact, there is a very common saying that you are always within 3 feet of a spider. Whether this is fact or a myth, the truth is that spiders are all around us, and for the most part try to stay out of our way.  When you are ready for a spider exterminator, EcoTech is here to help.  If you live in the St. Paul area, call us at any of the convenient numbers to schedule an appointment:  (612) 237-8282 • (952) 881-6662 • (763) 785-1414 • (651) 260-7378.