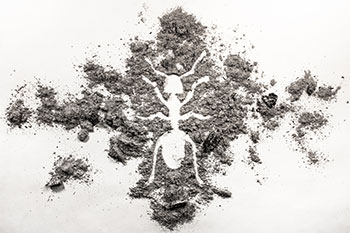 Well we just went from winter straight to summer… Not that summer is here, as a Minnesotan, you know if you sit outside for even a minute, you will notice all kinds of insects around you. You may see a bee buzzing by, see several ants marching forward, notice a beetle of some sort on a tree or find a pesky mosquito looking for a landing spot. Insects are everywhere and it makes sense that at times they make their way into our homes. Sometimes they enter through our open doors and windows and other times they enter through tiny cracks that are barely even visible. Insects are part of our world and have a role in keeping our ecosystem healthy. However, when they find their way into our homes, they can become a real nuisance and are very difficult to get rid of on your own. Eco Tech is a comprehensive pest control service that offers affordable, effective all natural solutions to pest control problems.
All-Natural Pest Control Options
Many of our clients are concerned about the environment and do not want to contribute to putting harmful chemicals into the air. We understand this and agree. This is exactly why we offer all natural pest control solutions that are organic and safe for the environment as well as for your kids and your pets. These pest control solutions target the pests and insects but leave the rest unharmed. You can feel confident about hiring our crew to handle your pest control problem. We do not require annual contracts, so you can simply hire us to handle the problem that you have, without paying for services that you do not need.
Minnesota Pest Control
We are a local, Minnesota company with many years of experience battling the pests that are common in this area. We can target ants, roaches, beetles, bees, wasps, fleas, and any other insects that you find in your home or business. Insects can reproduce quickly so we recommend that you act quickly if you notice a problem. Insects can cause damage on your property and leave areas of your home vulnerable to other insects as well. We are open 7 days a week and we offer 24/7 emergency service, so you can reach us when you notice a problem, rather than waiting for a weekend or holiday to pass. Our staff is friendly, professional, on time, reliable and can answer your questions. So, next time you have a pest problem, call Eco Tech at (612) 237-8282 for all-natural pest control solutions!