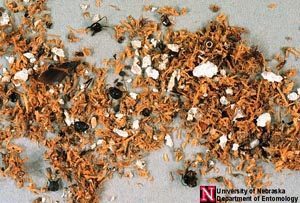 If there's one pest that really irks your average Minneapolis, MN property owner the most, we'd guess it would be ants! Once they invade your residential or commercial property, it seems like they spread and multiply in the millions. If you live in Minneapolis and you think you have an ant problem, call your reliable, local ant exterminators at Eco Tech.
Your Local Ant Exterminator
With over 15 years in the ant extermination business, Eco Tech is more than capable of handling any ant invasion – big or small. Our team of professionals are always honest, reliable, and punctual. When you choose us, we will offer the most affordable prices in the industry and then back up our services with a 30 day warranty. Additionally, all of our products are used with the environment in mind. For ant extermination, we offer a less toxic organic product line that is safe for humans and pets in the home.
It Ant Your Day
When you discover an ant infestation in your home, it's obviously important that you deal with it quickly. Colonies can create an abundance of ants rapidly with numbers ranging as high as 300,000-500,000. They are scavengers and can easily find their way into your home or business by a simple crack or hole. As they scavenge and forage for food, their colonies begin to grow. Any ant colony in or around your property is not an ideal one. This is why it is so important to call Eco Tech and get these ants removed. All it takes is one phone call and a professional will come to your door and perform an evaluation. Our experienced professionals will look for the species, the colony/nesting location, and the areas that the ants may have affected. We will then give you a realistic and affordable estimate. Once you agree, we will get to work and perform the ant extermination quickly and efficiently. Not only will we exterminate the ants, we will correct the damage they have caused and take the extra steps towards preventing an ant invasion from happening again. All of this is done with keeping our environment and the safety of those in the area in mind.
Want to know more about ant extermination in Minneapolis and are you interested in getting to know your local exterminator? For more information about Eco Tech and ant extermination, give us a call today at 763.785.1414.