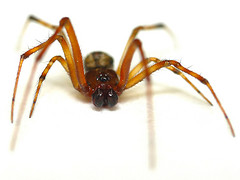 Summertime is the perfect time of year to enjoy the outdoors- hiking, swimming, boating, outdoor picnics, playing sports, the list goes on and on. Unfortunately, summertime is also the time of year when pests like to invade homes. Ants, wasps, spiders, silverfish, and roaches make their way into homes during the summer months and multiply rapidly. If you live in Bloomington or other surrounding areas and have noticed insects making their way into your home, but are looking for an environmentally conscious way to rid yourself of them, Eco Tech is ready to help.
Eco Friendly Pest Control
There are many products you can buy at your local store to try to eliminate pests from your home. But have you ever really considered what is in those products? Many are synthetic sprays that are harmful to the environment and not safe to use around children or pets. We want you to feel confident in the products we use, so we use natural pest control treatments that are earth, children, and pet friendly.
Kills the Pest, Leaves the Rest
We know it is necessary to eliminate pests from your home. They can cause damage to your home and can even carry disease, not to mention the fact that many people consider them to be gross in general.
As a company, our goal is to take care of any infestations at your home or place of business, as well as to prevent any pests from returning. We approach extermination in an organic, natural way, meaning we will rid your residence of the pests that have found their way into your home without harming any predators that may find those insects as prey. Of course, our products are also safe for use around all family members, including pets. Some of the insects we deal with include:
Ants
Asian beetles
Fleas
Lice
Roaches
Bees
Bloomington Pest Control Professionals
Not only does Eco Tech use less toxic pest control products, we are also a knowledgeable company with more than 15 years of experience. With low prices, no contracts required, and an A+ Better Business Bureau rating, we know you will find working with us to be worthwhile. In addition to pest control, we also will repair any damage to your home or place of business with a 30 day warranty included. If you are looking to rid your home of unwanted guests, give Eco Tech a call today at (612) 237-8282 or (763) 232-7296 to set up an appointment.