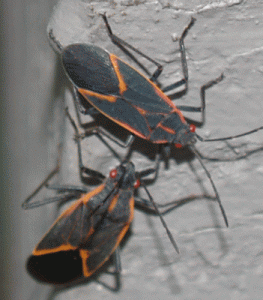 Box Elder bugs, while they are harmless to humans they can cause some major issues in and around the home. They are considered nuisance bugs and are known for popping up in large numbers. Lately, we have seen a number of rising Box Elder bug infestations around Coon Rapids, Anoka, and Blaine, MN. This is because winter is coming and their search for warmth and survival just happens to be in your home. At Eco Tech, we are your area's greatest asset when it comes to getting rid of these creepy crawlers. If you have a Box Elder bug problem, Eco Tech can help.
Why Don't You See Them All Year Long?
Box Elder Bugs most commonly live on box elder trees. During the spring and early summer months, these bugs are mating and rarely trying to find their way into your home. However, as the days cool down and the leaves begin to fall, these little critters begin to search for warmth and safe harboring during the winter months. This is why Box Elder bugs start showing their little faces around this season and it's also why we get an influx of calls for Box Elder bug infestations.
The Dangers of Box Elder Bugs
While no infestation of any insect in your home is necessarily good, there are definitely some that could be worse. Box Elder Bugs are very gentle. They cannot harm you, don't carry any type of diseases, and they won't eat or ruin your houseplants. If these bugs would just stay outside, they'd be okay. However, if found inside your home, Box Elder bugs are known for staining your property. They will stain your surfaces with their excrement, leaving you a pretty large mess to continue cleaning up. For this reason, among others, it's important to get rid of these bugs as soon as you notice them in your home. At Eco Tech, our professionals have the knowledge and skills to get this job done.
Elimination
Just because you only see a couple doesn't mean there aren't hundreds more that you cannot see! Our full service extermination team will come out to your home and will personally guarantee that we get every single one of the Box Elder bugs out of your home. We use a less toxic organic product line to ensure the safety of you, your family, and your pets in the home. We will then go a step further to repair the damage they may have caused and prevent them from coming back. We are so confident in this that we offer a 30 day warranty for all of our services!
For more information, or if you have a Box Elder bug problem in your Coon Rapids, Anoka, or Blaine, MN, home, give our team at Eco Tech a call today at 763.785.1414.