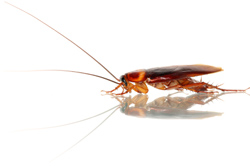 Not sure how to get rid of cockroaches? You're not alone. Cockroaches are one of the most common household pests in the world, and the three most common cockroaches in the United States are the German, Oriental and American roach. These different roaches can be attracted to your home for different reasons. Knowing the type of roach you are dealing with can help when deciding how to get rid of them. For instance, the most common roach found indoors is the German roach. The German roach is attracted to water. That is why reducing water in your home can greatly decrease the chance of a roach invasion.
Cockroach Extermination
Not only is water a problem, but there are many other steps you can take to help prevent roach infestations. The best methods are daily cleaning and proper food storage, to prevent an infestation. But if you already have problems with roaches how do you get them out of your home?
Roaches enter homes and businesses to find food, water and shelter. Once they have infested an area, they reproduce quickly and therefore they pose a threat to your comfort and health. It is important to get rid of cockroaches before an infestation occurs and their population gets out of hand. Roaches are known to carry bacteria that can result in food poisoning, diarrhea, allergies and skin rashes. In large numbers they can also produce a foul odor.
At Eco Tech we are a Minnesota natural pest control service, we are a professional, family-owned pest control business. With over 50 years of combined experience in the pest control business, we are proud to say we have kept up and even set the standard for industry advancements and we are extremely familiar with local pest problems in Minneapolis and the twin cities and are here to help. We take pride in our customizable insect programs, with no annual contract fees, inspection and all repairs warrantied for 30 days.
Not only are we a pest control company, we are an organic pest control company. We provide all-natural solutions towards insect control for residential and commercial locations. The reason this is so important is because it does not only rid the house of pests but is safe for your pets, children, family and friends. There is nothing worse than using toxic chemicals that you have to worry about all the time impacting your life negatively. We want to get rid of the pests and keep your family and friends save. So when you have a pest problem, look no further than Eco Tech we are here to help your Minneapolis home with roach extermination.