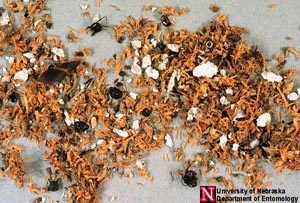 Having an insect infestation isn't rare. No home or business has every gone without getting visited at some time by those mangy pests. In our home state of Minnesota, our states ecosystems are quite lush and therefore we have a lot of different insects. Why you ask. Example, Anoka, MN is home to over 100 species of trees and bushes, and because of this we are more vulnerable to needing a bug exterminator.
Minnesota Insect Exterminator Company
EcoTech is a Minnesota based insect exterminator company, here to provide the the twin cities metro with great service. With more than 15 years serving homes and business in Minneapolis and St Paul, we have perfected our skills and are able to make your home bug free again. When we work with you, we not only remove the current population of insects, we look for the places they are getting into you home or office, to prevent a problem from occurring again.
Eco-friendly, Safe and Effective Pest Control Solutions
Eco-Tech Pest control is committed to eco-friendly, safe and effective pest control solutions. We serve residential and commercial customers, and offer both interior and exterior pest control management. The most important part of treating pests is to know exactly what pests we're dealing with, and fix the problem using safe chemicals so you, your family and your pets do not suffer any second-hand consequences.
Guaranteed Results
Insects can be difficult to deal with, and oftentimes you may only find the live insects and not the point of entry, eggs or larvae. As many people try to control the problem by themselves, they oftentimes have a hard time finding the source of the issue, and use toxic chemicals that can be extremely dangerous and potentially fatal to pets or children living in the house. Trying to deal with these issues yourself may not be the best option. If you needed a local pest control professional, EcoTech is the way to go. We are well educated with the pest problems around MN, and know how to locate the problem, treat the cause and prevent future problems. Each case is different, and that is something we understand, therefore we customize each pest control plan to eliminate your insect problem, with guaranteed results.
If you have an infestation and are looking for a trusted insect exterminator co, then let us help you. For all of your pest control needs, box elder bugs, ants, spiders just to name a few give us a call today at (612) 237-8282 for assistance.