Ant Pest Control MN
Ants, wasps and bees make up the third largest group of insects in the world – the order Hymenoptera.
In many ways, ants can outwit, outlast, and outplay humans. Their complex, cooperative societies enable them to survive and thrive in conditions that would challenge the individual. They live and work together in communities made up of hundreds or thousands of individuals, almost all of them sisters.
Some of these amazing insects are hunters. Some are harvesters. Some farm fungi. Some keep slaves. Others keep caterpillars or aphids.
Their success in so many environments has been attributed to their social organization and their ability to modify habitats, tap resources, and defend themselves.  Ant societies have division of labor, communication between individuals, and an ability to solve complex problems.
More than 12,500 out of an estimated total of 22,000 species have been classified. They are easily identified by their elbowed antennae and a distinctive node-like structure that forms a slender waist.
Ants have colonized almost every landmass on Earth. Scientists have identified more than 12,000 species of ants worldwide. The only places lacking indigenous ants are Antarctica and a few remote or inhospitable islands. Scientists estimate there are at least 1.5 million ants on the planet for every human being. Minnesota alone has more than 100 ant species.
There are Four Common Minnesota Ants
The Turfgrass Ant (Lasius Neoniger)
is one of the most common ants in the eastern United States. It builds nests underground on lawns and along the side of the road, leaving a donut-sized anthill at the entrance. Queens and males emerge for their mating flight in late summer, often in swarms after a rain. Turfgrass ants eat dead insects and plant nectar, and also tend root aphids, much as a farmer tends cows. In winter the ants store and care for aphid eggs in their nest. In spring they carry the newly hacked aphids to nearby plant roots to feed. As the aphids feed, they secrete a sweet substance, called
honeydew
, which the ants harvest and eat.
 The Pavement Ants (Tetramorium Caespitum) this ant was brought to North America from Europe.  The workers are about as big as a grain of rice. The queen is more than twice as big. Some pavement ants bring butterfly caterpillar in to their nest. The ants guard the caterpillars from predators. When the caterpillars feed, they secrete a juicy substance that the ants eat. Pavement ants are famous for getting into ant fights between colonies. Mating Swarms: May through July. When the nest is under a heated slab foundation, swarms can also occur indoors during winter.
The Thief Ants (Solenopsis Molesta) this is a tiny, yellowish ant that lives in the ground or in rotting wood. Members of this species are often called thief ants because they steal eggs and larvae from other kinds of ants, than eat them. Though they will eat sugary treats, they like greasy food such as meat and cheese even more. Mating Swarms: July through September.
The Carpenter Ant (Camponotus Pennsylvanicus) This ant makes tunnels in wood for its nests. But they don't eat wood. Instead they eat plant juices, honeydew, other insects, and dead animals. Carpenter ant larvae have tiny hairs that make them stick together like Velcro. That makes it easy for workers to move them in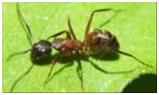 bunches from chamber to chamber in the nest. Carpenter ants are mainly active at night. Mating Swarms: April through June. Occasionally swarms may emerge indoors earlier during late winter on warm, sunny days.
Ants are the most frequent and persistent pests encountered around homes and buildings. Besides being a nuisance, ants contaminate food, build unsightly mounds on our property, and cause structural damage by hollowing out wood for nesting.
To most homeowners, all ants look pretty much alike. In truth, each have unique characteristics which may influence the method of control.
Differences Between Bees and Wasps
Characteristic

Bee

Both

Wasp

Stinger
honeybee workers: stinger is pulled from bee's abdomen and bee dies
other bees: live to sting again
have backward-pointed barbs on stinger to penetrate victim
small barbs; stinger can be removed from victim; wasp lives to sting again
Body
rounder body, usually appears hairy
narrow junction between thorax and abdomen
usually slender and smooth
Legs
hairy
no significant similarities
few hairs
Food
feed on pollen and nectar
no significant similarities
predators or parasites of other insects, or scavengers
Some do-it-yourself products may provide short term relief, but may in fact, make a problem worse.  Ants are easily repelled by some common residual remedies and, without finding the colony, their repeated use can often cause a colony to move or even split into multiple colonies.  And simply killing foraging ants will not eliminate the colony since the queen remains in the colony and her sole purpose is to lay more eggs to ensure the survivability of the colony.
The best way to get rid of ants is to find and destroy the nests. This is often easier said than done. What you need is a Minnesota Pest Control Expert who will locate the nest location(s) and eliminate all the ants.