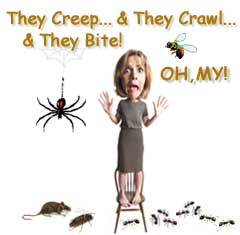 Bugs in your home are the worst! We get it…You've tried all of the pest control options at your local home improvement store, and the pests just keep coming back for more! Whether it is ants, mice, cockroaches, or spiders, there are not many bugs you want cohabitating with you in your very own home. If you are looking for a Minneapolis and St Paul exterminator that can help remove these pests for good, Eco Tech is the premier pest removal provider for you! Team up with a team of professionals that not only have the experience to go up against these bugs, but offer environmentally safe bug extermination services that cannot harm you or your pets.
Common Pests Found In Homes
Cockroaches – There is nothing like turning on your kitchen light to grab a drink from the refrigerator, and you see a big cockroach in the middle of your kitchen floor. A lot of the sprays found at home improvement stores do not fight well against these critters. Our team can examine your home to make sure that all of these pests are removed!
Mice – If you find feces along your floor or near your pantry, chances are mice are roaming your home while you are asleep. These rodents quickly reproduce, so it is important that you call our staff the minute you notice them in your home.
Rats – Have you heard a tapping sound from your attic? Well, you may have rats visiting your home. Rats can cause more damage than mice, including damage to your foundation. Additionally, these animals can carry dangerous diseases. Let our pest removal specialists remove the rats and also repair any damage they may have caused during their visit.
Ants – Isn't it true that you never see just one ant? Whenever you see an ant, chances are they have friends following right behind them. These pests can enter your home in the tiniest of places, and quickly show up whenever food is left behind. Using our all natural pest removal products, we can get rid of the colony of ants that have invaded your home.
The Pest Removal Process
Give us a call as soon as pests are found in your residence. Quickly, we will arrive at your residence to provide a thorough inspection of your home looking for any pests or damage. Our team will find the root of the issue and remove the pests from your home using environmentally safe bug extermination products. That's not all we offer. Our staff can handle any repairs caused by the pests and we also offer preventative services as well to make sure the bugs stay away for good!
So, if you are looking for a reliable pest removal company in the twin cities area of Minnesota, Eco Tech is the crew for you! Give us a call today at (763) 785-1414 to learn more about our safe and environmentally friendly pest removal services. We'll be sure to get rid of those pests in no time!