Posts Tagged 'wasp control'
Minnesota Bee Pest Control
Last Updated on Wednesday, 20 September 2017 12:03 Written by admin Tuesday, 19 September 2017 04:17
Bee Pest Control  in Minnesota
Wasps and bees are beneficial insects, although they are generally considered to be pests because of their ability to sting. Wasps, in particular, can become a problem in autumn when they may disrupt many outdoor activities. People often mistakenly call all stinging insects "bees". While both social wasps and bees live in colonies ruled by queens and maintained by workers, they look and behave differently. It is important to distinguish between these insects because different methods may be necessary to control them if they become a nuisance.
Wasp Control St. Paul
Last Updated on Saturday, 29 October 2016 05:36 Written by Pest Exterminator MN Thursday, 3 November 2016 05:34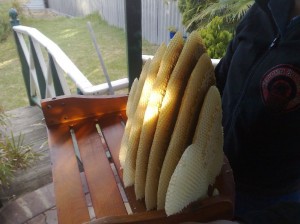 Wasps are insects that are generally known for their sting. In fact, many confuse wasps with bees, but wasps, unlike bees, can actually sting more than once without dying.  There are more than 30,000 different species of wasps and they actually do a lot of good for our environment.  One of their primary purposes is controlling the pest population by eating other bugs. Wasps build nests using from wood fibers scraped with their hard mandibles and chewed into a pulp.  Wasps can become a problem for property owners if they build nests on or around your home or business, where you, your family and other guests frequently pass.  Eco Tech, a Minnesota natural pest control service, is a professional, family-owned pest control business that serves homeowners and business owners in the St. Paul, MN area and can quickly and completely eliminate a wasp or bee problem from your home or business, once and for all.
Wasp Control Services, St. Paul MN
No one likes the thought of a wasp or bee sting. In addition to the pain, some of us are allergic, and a sting can cause health problems. Many wasps can reside in one nest and may come back to the same spot year after year.   If you find one or more wasps nests on your property, it is wise to seek the help of a professional pest control company for safe nest removal.  The team at Eco Tech has a combined 50 years in the pest control business and extensive experience removing wasp nests from properties in the St Paul area.
Natural Pest Control Service
The Eco Team is reliable, honest and is respectful of your time.  We respond to your need quickly and carefully, understanding that you want a pest control problem handled as soon as possible.  Eco Tech is known to offer some of the lowest prices in the area and does not require customer contracts.  This puts you in control of the services you need and also means that you will not pay for pest control that you do not need.  Our team uses solutions that are safe for the environment, children and pets, but work effectively on the pests.
Those without proper training and equipment should never handle wasps' nests.  If you find one or more wasps nests on your property, contact the team at Eco Tech today at (612) 237-8282 for assistance.  In addition to wasp removal services, our pest control team can also remove spiders, bees, lice, roaches, crickets and many other pests.
Wasp Removal MN
Last Updated on Friday, 21 October 2016 09:56 Written by Pest Exterminator MN Friday, 21 October 2016 09:56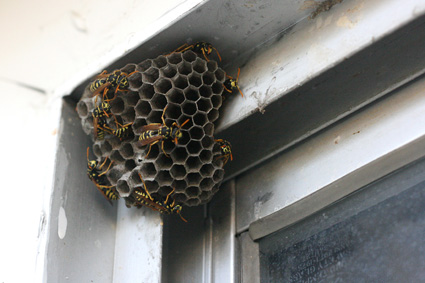 Have you had enough of wasps that have built a nest on or near your property or home? If you've been dealing with dodging the wasps that fly to and from their nest outside your home or business, it's time to call in the wasp removal experts in MN.  At Eco Tech, the top Minnesota natural pest control and pest removal service, we use an all-natural method to remove wasps in order to keep you safe in more ways than one.
The Problem With Wasps
You might have noticed a wasp nest up high on the exterior of your home or building. Maybe you've seen them buzzing around outside areas where you like to spend your time. Some bees are known to build nests underground, and surprising them while doing yard work, or having your kids or pet innocently play near their underground nest can be very dangerous.  While you may think you're safe from wasps, especially when they live higher up, there are important facts you should know about wasps.
Wasps Can Sting!
Not only are wasps nests unsightly, but the wasps themselves pose a threat as they have the ability to sting. Some species of wasps are aggressive and will sting when provoked or threatened. Wasps are capable of stinging multiple times, unlike honey bees. There's no need to allow wasps to threaten your safety, call Eco Tech for safe, natural wasp removal services in MN.
Natural Wasp Control In Twin Cities Metro Area
When you contact Eco Tech to tackle your wasp problem, our professional team member will inspect your problem area. Once we've identified your wasps and the location of their nest, we will formulate an effective treatment plan that includes safe removal of the wasps and we'll keep them from returning.
Natural Wasp Spray Treatments In Twin Cities Metro Area
Are you looking for a natural pest control for wasps in the Twin Cities Metro area? Our products are not harmful to the environment, which means your kids and pets can continue to safely play and spend time outdoors, with no threat of poisonous chemical sprays.
Learn More About Natural Pest Removal In MN
If you are having a problem with wasps in the Twin Cities Metro area and you'd like an inspection of your business or home, contact us today by calling 763-785-1414, or click here to complete our online contact form.
Wasp and Hornet Exterminator New Brighton
Last Updated on Saturday, 11 June 2016 01:08 Written by Pest Control Expert Saturday, 11 June 2016 01:08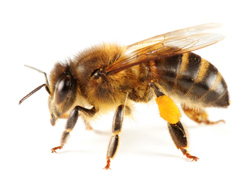 Wasps and hornets become active during the spring and summer months after being dormant during the Minnesota winter.  This is, of course, the time of year when they become most problematic for homeowners.  Their main goal is to find a food source, so they often invade what we consider our territory to get it.  Wasps and hornets are generally thought to be more of a nuisance than dangerous, though their stings can cause allergic reactions in humans, which should be taken very seriously.  Eco Tech is a professional pest control company serving those in Brighton, MN that can immediately take care of wasps and hornets that have invaded your property.
Exterminator Shoreview MN
Last Updated on Thursday, 20 August 2015 05:13 Written by Pest Exterminator MN Thursday, 20 August 2015 05:13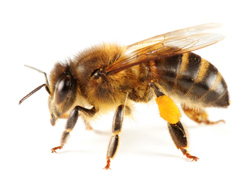 In Minnesota, it's nice to have a thoroughly sealed up house in both winter and summer. However, animals also like to stay in warm, sealed up places too. It can be hard to get these critters out of the house, and that is when people should call professional pest control experts and exterminators such as the experienced technicians at Eco Tech. We will eradicate any pests and unwanted critters in your Shoreview home or business, using either traditional or natural techniques according to your choice.
Tags: Bee Control, bee removal, mn pest control, pest control mn, raccoon trapper and exterminator, squirrel trapper, wasp control, wasp nest removal, wasp removal | Posted under Bee & Wasp Control, Flea removal, Minnesota pest removal, Pest Control, Pest Control Exterminator | Comments Off on Exterminator Shoreview MN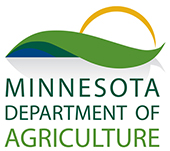 Certified Master Technician
Hours of Operation
Monday - Sunday
7:30am - 6pm

24/7 Emergency Service Nights & Weekends

Service Area: Twin Cities Metro