Posts Tagged 'box elder bug removal'
Box Elder Bugs Coon Rapids
Last Updated on Thursday, 19 October 2017 05:24 Written by Eco Tech Pest Control Thursday, 19 October 2017 05:24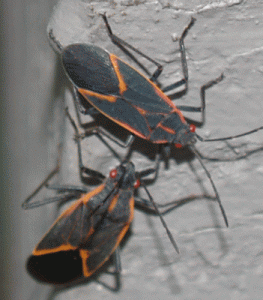 Box Elder bugs, while they are harmless to humans they can cause some major issues in and around the home. They are considered nuisance bugs and are known for popping up in large numbers. Lately, we have seen a number of rising Box Elder bug infestations around Coon Rapids, Anoka, and Blaine, MN. This is because winter is coming and their search for warmth and survival just happens to be in your home. At Eco Tech, we are your area's greatest asset when it comes to getting rid of these creepy crawlers. If you have a Box Elder bug problem, Eco Tech can help.
Why Don't You See Them All Year Long?
Box Elder Bugs most commonly live on box elder trees. During the spring and early summer months, these bugs are mating and rarely trying to find their way into your home. However, as the days cool down and the leaves begin to fall, these little critters begin to search for warmth and safe harboring during the winter months. This is why Box Elder bugs start showing their little faces around this season and it's also why we get an influx of calls for Box Elder bug infestations.
The Dangers of Box Elder Bugs
While no infestation of any insect in your home is necessarily good, there are definitely some that could be worse. Box Elder Bugs are very gentle. They cannot harm you, don't carry any type of diseases, and they won't eat or ruin your houseplants. If these bugs would just stay outside, they'd be okay. However, if found inside your home, Box Elder bugs are known for staining your property. They will stain your surfaces with their excrement, leaving you a pretty large mess to continue cleaning up. For this reason, among others, it's important to get rid of these bugs as soon as you notice them in your home. At Eco Tech, our professionals have the knowledge and skills to get this job done.
Elimination
Just because you only see a couple doesn't mean there aren't hundreds more that you cannot see! Our full service extermination team will come out to your home and will personally guarantee that we get every single one of the Box Elder bugs out of your home. We use a less toxic organic product line to ensure the safety of you, your family, and your pets in the home. We will then go a step further to repair the damage they may have caused and prevent them from coming back. We are so confident in this that we offer a four-year warranty for all of our services!
For more information, or if you have a Box Elder bug problem in your Coon Rapids, Anoka, or Blaine, MN, home, give our team at Eco Tech a call today at 763.785.1414.
Tags: Asian Lady Beetle infestation, box elder bug control, box elder bug removal | Posted under Asian Beetles Extermination, Asian Lady Beetle Removal, Asian Lady Beetles, Box elder Bug Control, Box Elder Bugs, Boxelder Bug Control, Minnesota pest removal, Pest Control, Pest Control Exterminator, Roach Removal | Comments Off on Box Elder Bugs Coon Rapids
Boxelder Bugs
Last Updated on Thursday, 24 August 2017 11:11 Written by Pest Control Expert Thursday, 24 August 2017 11:11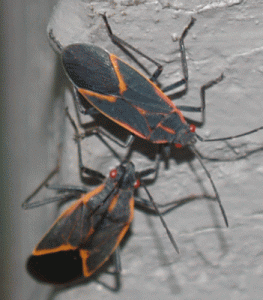 Box elder bugs are commonly found in Minneapolis and the surrounding suburbs. Wherever box elder trees as well as maple trees reside, the Box elder bugs will follow. In the warmer months, these bugs hang out on trees, bricks, decks, siding, etc., so they can get direct sunlight. During the warmer months of the year, these pests lay eggs, causing more and more Boxelder bugs to hang around your property. The real issues occur when the winter months hit. Often times, Boxelder bugs enter into homes through the tiniest holes or cracks and get into the walls of your home to help insulate and keep themselves warm during the colder months of the year. Next thing you know, your home has been infested with Boxelder bugs. Rather than trying to remove these unwanted pests on your own, leave it up to our experienced team at Eco Tech.
All Natural Box elder Bug Control
Not all Box elder bugs are going to be visible in your home. So, you may think you see all of the bugs that have entered your home for warmth, but there is likely plenty more that are hiding. While these bugs are not harmful and do not carry diseases, their excrement can stain surfaces of your home. Trying to remove these animals on your own leaves a chance that you don't capture all of the Boxelder bugs. By teaming up with Eco Tech, we guarantee to remove all of the Boxelder bugs from your home. Using all natural and less toxic bug removal applications, your home will remain safe from unwanted chemicals. This will give you peace of mind that your children and pets will not be harmed in anyway by the pest removal application that we provide.
Inspect, Exterminate & Prevent
At Eco Tech, our proven extermination methods identify all Boxelder bugs in your home and get rid of them with ease. Once you pick up the phone to call our team, we'll swing by and provide you with a thorough inspection to identify all of the Boxelder bugs in your home. From there, we'll exterminate these pests using traditional and all natural methods. Once your home is free of Boxelder bugs, we'll go the extra mile and apply preventative measures to ensure that these unwanted bugs don't enter your home again! To top it off, all of our services are backed by a four year warranty!
If Boxelder bugs find their way into your home in Minneapolis or the surrounding suburbs, it is important to contact the experts. If you are looking for an exterminator that uses all natural and less toxic chemicals to remove Boxelder bugs from your home, Eco Tech is the partner for you! To learn more, give us a call today at (763) 785-1414.
Boxelder Bug Removal Minnesota
Last Updated on Friday, 24 February 2017 09:07 Written by Eco Tech Pest Control Friday, 24 February 2017 01:01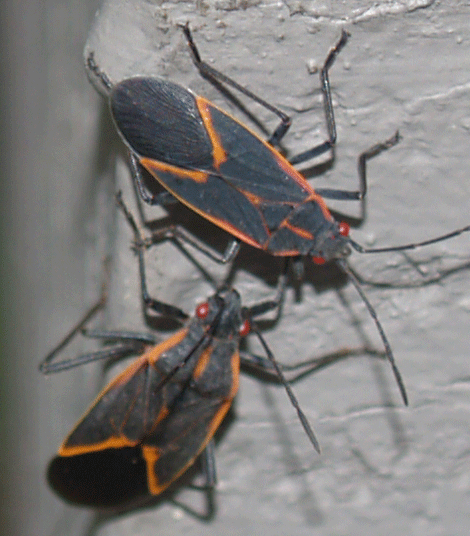 While most Minnesota residents welcome the fall with open arms and a rake, a few of our little bitty residents scramble to find warm air and protection from the cold winter. Their ½ inch long body leaves its original nesting area in the trees and struts it's black body with orange or red markings into all sorts of different cracks and spaces around the home. No, we aren't talking about your grandma that flies to Florida after the first freeze, we are talking about the Boxelder bugs that become a real nuisance in the fall and winter months for all home and business owners. Fortunately, Ecotech, a highly experienced exterminator company, is here for all of your Boxelder bug control needs!
Box Elder Bug Exterminator Minneapolis
Last Updated on Thursday, 1 September 2016 05:21 Written by Pest Exterminator MN Thursday, 1 September 2016 05:21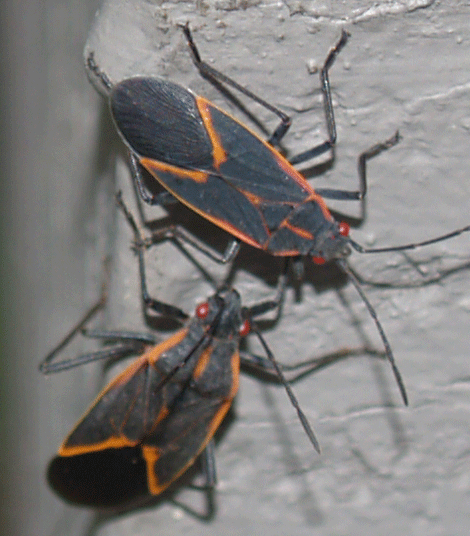 Box Elder bugs generally stay outside, perched on female Box Elder trees in Minnesota where they mate.  They can cause significant damage to trees and are not harmful to humans.  However, they generally try to seek warmth as winter months approach and you may start to find them in your home.  As with other pests, they are a nuisance and likely not welcome guests in your home.  In order to get rid of these bugs from your dwelling, your best bet is to hire a pest control company to take care of the problem.  Eco Tech offers natural pest control services to those in the Minneapolis, MN area.  As a local company with more than 15 years of experience, Eco Tech can find and eliminate the source of the box elder bug problem, as well as the bugs that have made their way inside.
Experienced Box Elder Bug Exterminator Minneapolis MN
The good news about box elder bugs is that they are not harmful to humans (or pets) and generally do not damage your home. They can, however, stain surfaces around your home with their excrement.  So, they are definitely not bugs that you want to live with.  And, very often our professional exterminators often find many more box elder bugs present than you would expect.  Eco Tech uses less toxic, environmentally friendly products that are safe for you, your family and your pets, but will do the job and eliminate the pests invading your home.
Local Pest Control Company Minneapolis
Eco Tech is a unique pest control company in that they do not require lengthy contracts from their customers. They only want to provide the services that are needed – and have a loyal following as a result.  With an A+ rating from the Better Business Bureau, the professionals at Eco Tech focus on providing superior customer service and affordable pricing.  We also stand behind every single job and are committed to eliminating your pest problem permanently, not just until the next season.  And, once the pests have been exterminated, our team can make the necessary repairs on your property to restore it to its previous state and prevent the bugs from returning.
If you think that you have box elder bugs in your home, or are battling any other type of pest, call the Eco Tech team at 612-237-8282 to schedule an appointment to have a member of our team come to your home for an analysis.
Pest Control Minneapolis MN
Last Updated on Friday, 22 March 2013 11:16 Written by Eco Tech Pest Control Tuesday, 26 March 2013 06:00
Minnesota Pest Control Minneapolis MN
Move over bed bugs.  They're here!  Stink Bugs that is!  The pest is on the move. The smelly bugs are hitch-hiking and gliding their way across the country. The brown marmorated stink bug has been found in 39 states, including Minnesota. The brown marmorated stink bug has been found in Ramsey, Anoka, Washington, Winona, Hennepin, Chisago and Carver counties since first being detected in Minnesota in November 2010. All were house invaders.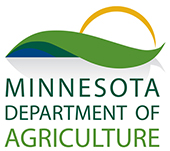 Certified Master Technician
Hours of Operation
Monday - Sunday
7:30am - 6pm

24/7 Emergency Service Nights & Weekends

Service Area: Twin Cities Metro